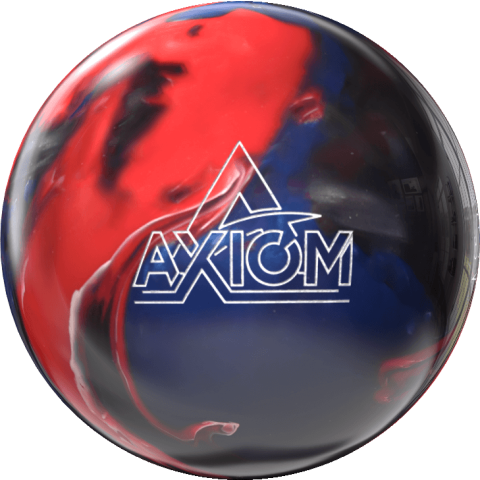 Create Custom Ball Comparison
Discontinued
Before you feel the intensity, you'll see it. Unapologetically tenacious, powerful and not fragile, this first-ever Axiom shoulders its way to the front of the line. Vibrant colors and fresh style. Tech that's got people talking and performance that checks all the boxes. The Axiom Pearl brings them all together with eye-catching appearance and can-do attitude.
Color: Cobalt/Graphite/Candy Apple
Fragrance: Peppermint
Factory Finish
1500 Polished
NRG™ has become a staple in Storm's lineup of coverstocks for nearly a decade. It's due time for an upgrade! NeX (Nano Extreme) is Storm's earliest reading cover to date. NeX was remarkably earlier hooking than NRG on any pattern, or any surface we tested it on. Our standardized durability and longevity tests showed NeX created 11% more entry angle and 9.6% more overall hook after 50 shots compared to a fresh NRG cover. Simply put, NeX gives more midlane read than ever WITHOUT sacrificing any backend! Wow.
The Orbital Core has a distinctly low RG axis. The lower the RG, the less resistant the ball will be to changing direction as it travels down the lane. The central ball inside the core ensures the ball revs up in the midlane and blends out the end of the pattern.
Balls Similar to the Storm Axiom Pearl
Ball
Brand
Comparison Grade
Coverstock
Core
RG
Diff
MB Diff
US/Overseas Release
Discontinued
Axiom Pearl

NeX Pearl

Pearl Reactive

Orbital

Symmetric
2.480
0.050
Phaze 4
A-

R2S Pearl

Pearl Reactive

Velocity

Symmetric
2.480
0.051
Marvel Pearl
A-

R2X Pearl

Pearl Reactive

Centripetal

Symmetric
2.480
0.050
Zen
A-

S77 Response Pearl

Pearl Reactive

Meditate

Symmetric
2.490
0.051
IDOL Pearl
A-

eTrax-P18

Pearl Reactive

Ikon

Symmetric
2.490
0.052
Uppercut
A-

Savvy Hook 3.0

Pearl Reactive

Melee Low RG

Symmetric
2.487
0.050
Melee Jab Carbon
A-

A.X.H. Pearl

Pearl Reactive

Melee Low RG

Symmetric
2.487
0.050
Web Pearl (2021, Jade/Smoke)
A-

Aggression Pearl

Pearl Reactive

Spheroid

Symmetric
2.480
0.048
Allure
A-

Traxion SF

Pearl Reactive

Allure

Symmetric
2.475
0.049
Optimus
A-

R2X Pearl

Pearl Reactive

Tri-Sphere

Symmetric
2.480
0.048
Rubicon UC2
A-

eTrax Pearl

Pearl Reactive

Rondure

Asymmetric
2.490
0.052
0.011
Web Pearl (2019)
A-

Aggression Pearl

Pearl Reactive

Spheroid

Symmetric
2.480
0.048
Game Breaker 3 Pearl
A-

GB 12.7 Pearl

Pearl Reactive

Enhanced V2

Symmetric
2.480
0.048
Volatility Torque
A-

S84 Response Pearl

Pearl Reactive

Volatility Asymmetric

Asymmetric
2.490
0.050
0.014
Melee Jab Blood Red
A-

Savvy Hook 2.0

Pearl Reactive

Melee Low RG

Symmetric
2.487
0.050
Melee Jab Midnight Blue
A-

Savvy Hook 3.0

Pearl Reactive

Melee Low RG

Symmetric
2.487
0.050
Phaze
A-

AX-16 Pearl

Pearl Reactive

Velocity

Symmetric
2.480
0.051
Halo Pearl
A-

eTrax-P18

Pearl Reactive

Centrum

Asymmetric
2.490
0.050
0.018
Melee Jab Special Edition
A-

Savvy Hook 2.0

Pearl Reactive

Melee Low RG

Symmetric
2.487
0.050
Verge Pearl
A-

Inciter Pearl

Pearl Reactive

Threshold

Symmetric
2.476
0.049
Rhodman Pearl
A-

Juiced Maxx Pearl

Pearl Reactive

Spheroid

Symmetric
2.480
0.048
Eon
A-

S82 RX

Pearl Reactive

Oloid

Symmetric
2.500
0.049
Blackout Pearl
A-

X3P

Pearl Reactive

Trailblazer

Symmetric
2.480
0.048
Diamond Diva
A-

Inciter Max Flip

Pearl Reactive

Diva 2.0

Symmetric
2.495
0.051
Hero
A-

Activator Plus 2.0 Pearl

Pearl Reactive

Contra

Symmetric
2.474
0.047