Details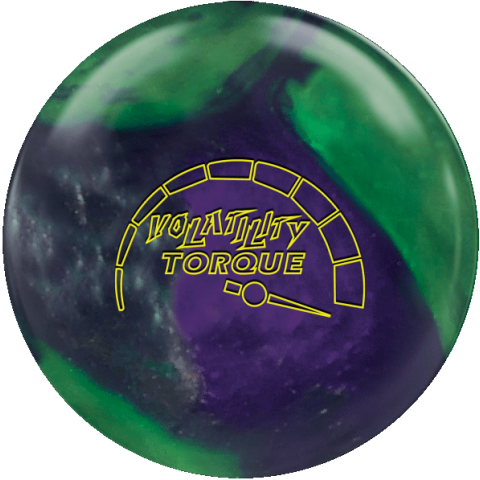 Create Custom Ball Comparison
Discontinued
The Volatility Torque™ features a brand new coverstock formulation paired with a proven weightblock.  An emphasis on entry angle for heavier volumes was put on this release!!
The S84 Response™ Pearl Coverstock represents roughly 2 years of R&D.  This cutting edge material increases the microscopic pores of the surface by over 20%.  This offers never before seen oil absorption.  By offering the ball in a polished pearl finish, we ensure you will see max backend on heavier volumes!!
At the heart of things is the proven Volatility™ Core.  With it's low rg and high diff, it will provide a wide footprint on the lane.  The moderate intermediate diff ensures that the core will save as much energy as possible for the backend!!
Factory Finish
1500 Polished
The S84 Response Cover, with its special chemical composition that creates up to 20% larger pore sizes, has been altered to a 1500-grit polished finish. The Reality, even though it was a cleaner dull ball, is still very strong in the front part of the lane. The Altered Reality will clear the heads much easier and save more energy for the back part of the lane. Even though the cover is a pearl and polished, the larger pore size allows for more traction in the oil than traditional pearl covers.
The S84 Response Pearl Reactive Cover is back with a vengeance. Due to the increased microscopic pore sizes, this cover will be clean through the front part of the lane like a pearl should be, but also dig into the oil whereas other pearl covers tend to struggle with. This is the exact same cover that was used on the Altered Reality. As a matter of fact, 2 of the 3 colors used on the Altered have been utilized on the Eternity as well. As with all of our high performance pearl covers, bowlers will find the Eternity to be easily tunable and able to cover a broad spectrum of oil conditions.
The Volatility Asymmetric Core will provide quick revolutions combined with a strong change of direction. The moderate intermediate differential will ensure that the ball will save as much energy as possible for the backend!!
Shop
Similar Balls
Balls Similar to the 900 Global Volatility Torque
Ball
Brand
Comparison Grade
Coverstock
Core
RG
Diff
MB Diff
US/Overseas Release
Discontinued
Volatility Torque

S84 Response Pearl

Pearl Reactive

Volatility Asymmetric

Asymmetric
2.490
0.050
0.014
Altered Reality
A

S84 Response Pearl

Pearl Reactive

Disturbance

Asymmetric
2.490
0.052
0.018
Halo Pearl
A

eTrax-P18

Pearl Reactive

Centrum

Asymmetric
2.490
0.050
0.018
Zen
A

S77 Response Pearl

Pearl Reactive

Meditate

Symmetric
2.490
0.051
Intense
A

R3S Pearl

Pearl Reactive

RAD-E

Asymmetric
2.490
0.050
0.017
Eternity
A-

S84 Response Pearl

Pearl Reactive

Epoch

Asymmetric
2.490
0.050
0.014
Idea
A-

EP5

Pearl Reactive

F. R. E. Response (Forward Rolling Ellipses)

Asymmetric
2.495
0.045
0.017
Eon
A-

S82 RX

Pearl Reactive

Oloid

Symmetric
2.500
0.049
Savage Life
A-

Exciter Pearl

Pearl Reactive

Savage

Asymmetric
2.490
0.051
0.016
Axiom Pearl
A-

NeX Pearl

Pearl Reactive

Orbital

Symmetric
2.480
0.050
Rubicon UC2
A-

eTrax Pearl

Pearl Reactive

Rondure

Asymmetric
2.490
0.052
0.011
Intimidator Pearl
A-

Inciter Max Pearl

Pearl Reactive

Assailant

Asymmetric
2.481
0.051
0.016
Zenith Pearl
A-

A.X.H. Pearl

Pearl Reactive

Zenith

Asymmetric
2.485
0.052
0.019
Authority
A-

ERT 2.0 Pearl

Pearl Reactive

Authority

Asymmetric
2.503
0.050
0.020
Crux Pearl
A-

ERG Pearl

Pearl Reactive

Catalyst

Asymmetric
2.500
0.052
0.017
Zing! Pearl
A-

Forged 2 Pearl

Pearl Reactive

Zing!

Asymmetric
2.499
0.051
0.020
Dark Code
A-

ReX

Pearl Reactive

RAD4

Asymmetric
2.500
0.058
0.020
Katana Legend
A-

Forged + Pearl

Pearl Reactive

Katana

Asymmetric
2.503
0.050
0.020
Top Speed
A-

HK22 - Formula 1 Pearl

Pearl Reactive

Shifter

Asymmetric
2.478
0.050
0.015
Redemption Pearl
A-

Aggression NE Pearl

Pearl Reactive

Redemption

Asymmetric
2.498
0.053
0.015
Incognito Pearl
A-

S. H. A. R. P. Pearl

Pearl Reactive

Incognito

Asymmetric
2.487
0.053
0.017
Omega Crux
A-

GI-20 Pearl

Pearl Reactive

Catalyst

Asymmetric
2.500
0.052
0.017
AstroPhysiX
A-

R2S Pearl

Pearl Reactive

Atomic

Asymmetric
2.480
0.053
0.017
Gauntlet Fury
A-

Semtex Pearl CFI

Pearl Reactive

Gauntlet

Asymmetric
2.500
0.050
0.012
Precision
A-

Prime Pearl

Pearl Reactive

Precision SD (Single Density)

Asymmetric
2.490
0.054
0.020