Details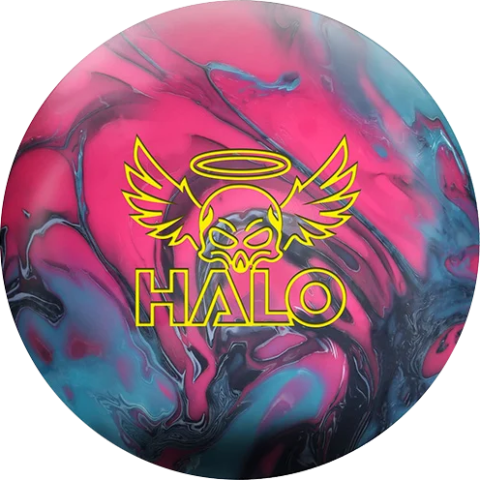 Create Custom Ball Comparison
Discontinued
Roto Grip created the Halo bowling ball to dominate heavy oil conditions. This ball introduces the Centrum asymmetric super strong core and pairs it with the proven and strong MicroTrax-S18 coverstock. This pairing produces the same type of motion found with the Hyper Cell and No Rules but takes it up a level in strongness!
Factory Finish
2000 Abralon
In testing and development we stumbled upon our strongest blend of Nano technology for the Roto Grip Brand to date, MicroTrax-S18. With tweaks in formulas and mix ratios we have created a coverstock that provides even more traction and is overall more aggressive than the Micro DNA Coverstock.
It took more than a year to develop this unique-shaped core, which increases its rotation/continuation once the ball is in motion.
Shop
Similar Balls
Balls Similar to the Roto Grip Halo
Ball
Brand
Comparison Grade
Coverstock
Core
RG
Diff
MB Diff
US/Overseas Release
Discontinued
Halo

MicroTrax-S18

Solid Reactive

Centrum

Asymmetric
2.490
0.050
0.018
Super Nova
A

NeX Solid

Solid Reactive

Ignition

Asymmetric
2.490
0.052
0.019
Reality
A

S84 Response Solid

Solid Reactive

Disturbance

Asymmetric
2.490
0.052
0.018
Alpha Crux
A-

GI-16 Solid

Solid Reactive

Catalyst

Asymmetric
2.500
0.052
0.017
Crux Prime
A-

SPEC Solid

Solid Reactive

Catalyst

Asymmetric
2.500
0.052
0.017
Gravity Evolve
A-

SPEC Solid

Solid Reactive

Shape-Lock HD

Asymmetric
2.480
0.052
0.020
Sure Lock
A-

GI-17 Solid

Solid Reactive

RAD-X

Asymmetric
2.480
0.054
0.018
Savage
A-

Exciter Solid

Solid Reactive

Savage

Asymmetric
2.490
0.051
0.016
No Rules EXIST
A-

Reckless

Solid Reactive

Chaotic

Asymmetric
2.510
0.053
0.018
Mission Unknown
A-

GB 12.7 Solid

Solid Reactive

Mission 1.0

Asymmetric
2.490
0.050
0.013
No Rules
A-

Micro DNA

Solid Reactive

Chaotic

Asymmetric
2.510
0.053
0.018
Proton PhysiX
A-

NeX Solid

Solid Reactive

Atomic

Asymmetric
2.480
0.053
0.017
Trident Abyss
A-

Coercion HV3 (High Volume 3rd Generation)

Solid Reactive

Turbulent

Asymmetric
2.490
0.054
0.017
Zing!
A-

Forged 2 Solid

Solid Reactive

Zing!

Asymmetric
2.499
0.051
0.020
IDOL
A-

MicroTrax-S18

Solid Reactive

Ikon

Symmetric
2.490
0.052
Katana Dragon
A-

Forged-X

Solid Reactive

Katana

Asymmetric
2.503
0.050
0.020
Maximum Results
A-

TS-1 (Textured Solid 1)

Solid Reactive

Maximum Results

Asymmetric
2.494
0.050
0.030
Mastermind Intellect
A-

Honor Roll A+ Solid

Solid Reactive

Mastermind

Asymmetric
2.488
0.052
0.015
Omni
A-

GSV 2.0

Solid Reactive

Omni

Asymmetric
2.501
0.050
0.013
Mindset
A-

Evolution Solid

Solid Reactive

Mindset

Asymmetric
2.487
0.050
0.021
Instigator
A-

Inciter Solid

Solid Reactive

Assailant

Asymmetric
2.481
0.051
0.016
Precision Solid
A-

Prime Solid

Solid Reactive

Precision SD (Single Density)

Asymmetric
2.490
0.054
0.020
Mastermind
A-

Honor Roll Solid

Solid Reactive

Mastermind

Asymmetric
2.488
0.052
0.015
Zen Master
A-

S77 Response Solid

Solid Reactive

Meditate

Symmetric
2.490
0.051
Authority Solid
A-

ERT 2.0 Solid

Solid Reactive

Authority

Asymmetric
2.503
0.050
0.020