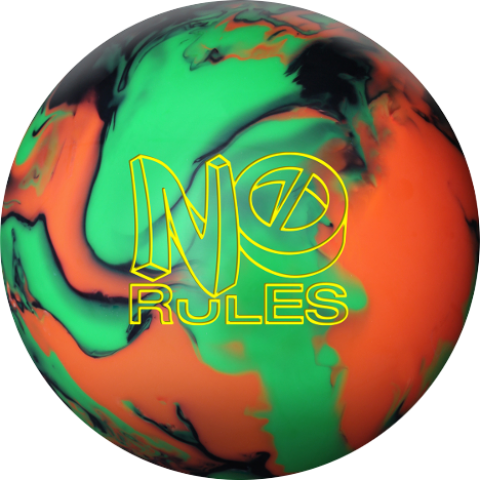 Create Custom Ball Comparison
Discontinued
Forget the rules! Go with the Roto Grip No Rules bowling ball and throw the rules out. Roto Grip has combined the best features of their best cores to create the Chaotic core. This core combines differential stability, consistent axis migration, and defined RG bands to produce a ball that is powerful. They didn't stop there. Roto Grip has covered this core with their strong Micro DNA Solid Reactive cover to give you the traction you desire. This bowling ball is finished with a 2000-grit pad and is best used on medium/heavy to heavy oil conditions. Go ahead and break the rules with the Roto Grip No Rules!
Factory Finish
2000 Abralon
My Micro DNA™ Solid Reactive Coverstock is ready for anything they can throw at me. The lanes think they're tough — they'll find out I'm tougher
My Chaotic™ Core gives me consistent axis migration, defined RG bands and the freedom to unleash as much or as little anarchy as I please.
Balls Similar to the Roto Grip No Rules
Ball
Brand
Comparison Grade
Coverstock
Core
RG
Diff
MB Diff
US/Overseas Release
Discontinued
No Rules

Micro DNA

Solid Reactive

Chaotic

Asymmetric
2.510
0.053
0.018
No Rules EXIST
A

Reckless

Solid Reactive

Chaotic

Asymmetric
2.510
0.053
0.018
Alpha Crux
A

GI-16 Solid

Solid Reactive

Catalyst

Asymmetric
2.500
0.052
0.017
UFO
A-

MicroTrax-S20

Solid Reactive

Equalizer Technology (E.T.)

Asymmetric
2.520
0.054
0.016
Crux Prime
A-

SPEC Solid

Solid Reactive

Catalyst

Asymmetric
2.500
0.052
0.017
Hyper Cell
A-

80H MicroBite

Solid Reactive

Nucleus

Asymmetric
2.520
0.056
0.018
Halo
A-

MicroTrax-S18

Solid Reactive

Centrum

Asymmetric
2.490
0.050
0.018
Super Nova
A-

NeX Solid

Solid Reactive

Ignition

Asymmetric
2.490
0.052
0.019
Reality
A-

S84 Response Solid

Solid Reactive

Disturbance

Asymmetric
2.490
0.052
0.018
Sure Lock
A-

GI-17 Solid

Solid Reactive

RAD-X

Asymmetric
2.480
0.054
0.018
Thug Unruly
A-

Class 13G

Solid Reactive

Thug

Asymmetric
2.505
0.052
0.015
Menace
A-

74H

Solid Reactive

Cage

Asymmetric
2.520
0.054
0.015
The Fix
A-

The Fix Solid

Solid Reactive

Shapeshifter Sym/Asym

Asymmetric
2.511
0.054
Pro-Motion
A-

SPEC Solid

Solid Reactive

Piston

Symmetric
2.520
0.049
Archetype
A-

QR-11 Solid

Solid Reactive

I-Core 3.0 Slim

Asymmetric
2.518
0.053
0.020
Command Solid
A-

ARS Solid

Solid Reactive

Movement

Asymmetric
2.513
0.053
0.021
Gravity Evolve
A-

SPEC Solid

Solid Reactive

Shape-Lock HD

Asymmetric
2.480
0.052
0.020
Proton PhysiX
A-

NeX Solid

Solid Reactive

Atomic

Asymmetric
2.480
0.053
0.017
Nightmare
A-

Class 8 Solid

Solid Reactive

Nightmare

Asymmetric
2.505
0.052
0.013
Vivid
A-

NRG Solid

Solid Reactive

M.A.D.

Asymmetric
2.520
0.050
0.017
Envision
A-

GSV-X

Solid Reactive

Envision

Asymmetric
2.501
0.053
0.010
Eternal Cell
A-

75M Solid

Solid Reactive

Nucleus

Asymmetric
2.520
0.056
0.018
Zing!
A-

Forged 2 Solid

Solid Reactive

Zing!

Asymmetric
2.499
0.051
0.020
Incredible
A-

Dazzler 2

Solid Reactive

Incredible

Asymmetric
2.514
0.054
0.021
Incredible Hero
A-

Dazzler 2

Solid Reactive

Incredible

Asymmetric
2.514
0.054
0.021