Details

Create Custom Ball Comparison
Discontinued
One of the most trusted cores in bowling is now being combined with a groundbreaking new cover in the MOTIV® Rogue Blade™.  This strong, angular weapon for medium oil slices through the competition.  The Rogue Blade™ masterfully combines outstanding control in the mid-lane with a powerful response down lane.
The proven Sigma™ core has been a favorite amongst competitive and casual bowlers for years due to its versatility and incredible power.  Masterfully merging a moderate differential with a low RG, it provides the Rogue Blade™ with easy revs and outstanding control in the mid-lane.  
The Rogue Blade™ is wrapped with MOTIV®'s new Hexion™ SE (Strength Enhanced) cover stock.  This new shell builds upon the original angular Hexion™ cover with powerful new technology.  Hexion™ SE is stronger in the oil and provides a faster response (more angular motion) down lane. The result is a substantially stronger motion than the original Hexion™ without sacrificing any angle.  
The Rogue Blade™ comes at a 4000 grit finish.  When polished this piece is incredibly fast response and when dull it is controllable and strong.  The 4000 grit finish gives the bowler an outstanding control without sacrificing great angularity.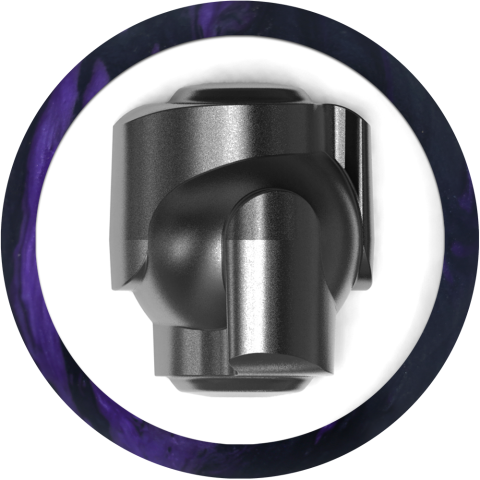 Shop
Similar Balls
Balls Similar to the Motiv Rogue Blade
Ball
Brand
Comparison Grade
Coverstock
Core
RG
Diff
MB Diff
US/Overseas Release
Discontinued
Rogue Blade

Hexion SE (Strength Enhanced)

Pearl Reactive

Sigma

Symmetric
2.470
0.047
VIP ExJ Sigma
A-

Dynamic Infusion Pearl

Pearl Reactive

Sigma

Symmetric
2.470
0.047
Blackout Pearl
A-

X3P

Pearl Reactive

Trailblazer

Symmetric
2.480
0.048
Sigma Sting
A-

Fusion Pearl

Pearl Reactive

Sigma

Symmetric
2.470
0.047
Hero
A-

Activator Plus 2.0 Pearl

Pearl Reactive

Contra

Symmetric
2.474
0.047
Game Breaker 2 Phenom Pearl
A-

GB 11.2 Pearl

Pearl Reactive

Enhanced V2

Symmetric
2.480
0.048
Attitude
A-

Activator Plus 3.0 Pearl

Pearl Reactive

Contra

Symmetric
2.474
0.047
Rhodman Pearl
A-

Juiced Maxx Pearl

Pearl Reactive

Spheroid

Symmetric
2.480
0.048
Game Breaker 3 Pearl
A-

GB 12.7 Pearl

Pearl Reactive

Enhanced V2

Symmetric
2.480
0.048
Eruption Pearl
A-

Reflex Pearl

Pearl Reactive

Resurgence

Symmetric
2.469
0.043
Web Pearl (2021, Jade/Smoke)
A-

Aggression Pearl

Pearl Reactive

Spheroid

Symmetric
2.480
0.048
Son!Q
A-

R2S Pearl

Pearl Reactive

Centripetal HD

Symmetric
2.470
0.047
Allure
A-

Traxion SF

Pearl Reactive

Allure

Symmetric
2.475
0.049
Web Pearl (2019)
A-

Aggression Pearl

Pearl Reactive

Spheroid

Symmetric
2.480
0.048
Cyborg Pearl
A-

QR-7 Pearl

Pearl Reactive

Cyborg

Asymmetric
2.480
0.043
0.007
Pure Fantasy
B+

Reverie 3 (RVR 3) Pearl

Pearl Reactive

Mushroom

Symmetric
2.486
0.044
Fantasy Star
B+

Reverie 3 (RVR 3) Pearl

Pearl Reactive

Mushroom

Symmetric
2.486
0.044
Crypto Boom
B+

HK22 - HyperKinetic Pearl

Pearl Reactive

Crypto

Symmetric
2.481
0.046
Dynamic Swing Pearl
B+

ERT Pearl

Pearl Reactive

Full Swing (modified)

Asymmetric
2.482
0.047
0.012
Phaze
B+

AX-16 Pearl

Pearl Reactive

Velocity

Symmetric
2.480
0.051
Vintage Vapor Zone
B+

Activator Plus 2.0 Pearl

Pearl Reactive

Zone

Asymmetric
2.478
0.048
0.017
Absolut Flip
B+

H-200 Pearl

Pearl Reactive

FatMax

Symmetric
2.480
0.048
Game Breaker 4 Pearl
B+

GB 12.0 Pearl

Pearl Reactive

Enhanced V2

Symmetric
2.480
0.048
United Revolt
B+

Helix HFP (High Friction Pearl)

Pearl Reactive

Vanquish

Symmetric
2.470
0.056
Axiom Pearl
B+

NeX Pearl

Pearl Reactive

Orbital

Symmetric
2.480
0.050