Details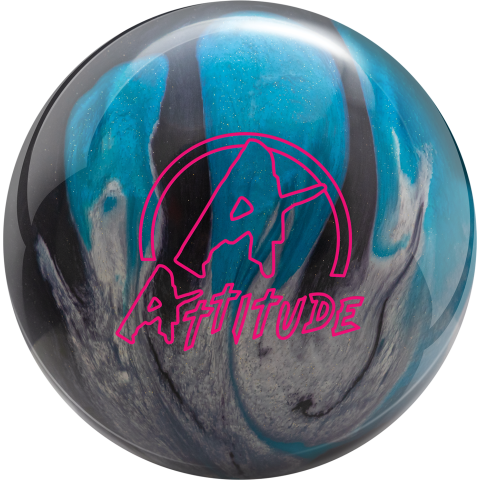 Create Custom Ball Comparison
The Attitude is a gorgeous aqua/silver/black with bright pink logos and is poured with Activator Plus 3.0 Pearl. The proven core and cover combination at an attractive price point will make everyone want to add Attitude to their bag this season.
Factory Finish
500/1000/1500 Siaair, Crown Factory Compound
Shop
* This page contains affiliate links, so I may earn a small commission when you make a purchase through the links below, at no additional cost to you.
Similar Balls
Balls Similar to the Brunswick Attitude
Ball
Brand
Comparison Grade
Coverstock
Core
RG
Diff
MB Diff
US/Overseas Release
Discontinued
Attitude

Activator Plus 3.0 Pearl

Pearl Reactive

Contra

Symmetric
2.474
0.047
Dynamic Swing Pearl
A

ERT Pearl

Pearl Reactive

Full Swing (modified)

Asymmetric
2.482
0.047
0.012
Web Pearl (2021, Jade/Smoke)
A

Aggression Pearl

Pearl Reactive

Spheroid

Symmetric
2.480
0.048
Melee Jab Carbon
A-

A.X.H. Pearl

Pearl Reactive

Melee Low RG

Symmetric
2.487
0.050
Game Breaker 4 Pearl
A-

GB 12.0 Pearl

Pearl Reactive

Enhanced V2

Symmetric
2.480
0.048
Scorpion Sting
A-

Semtex Pearl

Pearl Reactive

LED 3.0

Symmetric
2.485
0.045
Hero
A-

Activator Plus 2.0 Pearl

Pearl Reactive

Contra

Symmetric
2.474
0.047
Bigfoot
A-

TP-1+

Pearl Reactive

Bigfoot

Symmetric
2.468
0.053
Melee Jab Midnight Blue
A-

Savvy Hook 3.0

Pearl Reactive

Melee Low RG

Symmetric
2.487
0.050
Allure
A-

Traxion SF

Pearl Reactive

Allure

Symmetric
2.475
0.049
Diamond Diva
A-

Inciter Max Flip

Pearl Reactive

Diva 2.0

Symmetric
2.495
0.051
Top Speed
A-

HK22 - Formula 1 Pearl

Pearl Reactive

Shifter

Asymmetric
2.478
0.050
0.015
Kinetic Platinum
A-

DR-7 Pearl

Pearl Reactive

Shuttle

Asymmetric
2.480
0.040
0.005
Rhodman Pearl
A-

Juiced Maxx Pearl

Pearl Reactive

Spheroid

Symmetric
2.480
0.048
Game Breaker 3 Pearl
A-

GB 12.7 Pearl

Pearl Reactive

Enhanced V2

Symmetric
2.480
0.048
Madness
A-

HK22 - ERT Pearl

Pearl Reactive

Craze

Asymmetric
2.495
0.048
0.012
Web Pearl (2019)
A-

Aggression Pearl

Pearl Reactive

Spheroid

Symmetric
2.480
0.048
Axiom Pearl
A-

NeX Pearl

Pearl Reactive

Orbital

Symmetric
2.480
0.050
Verge Pearl
A-

Inciter Pearl

Pearl Reactive

Threshold

Symmetric
2.476
0.049
3-D Offset Attack
A-

HK22 - Neoflip 25

Pearl Reactive

High Rev Offset

Asymmetric
2.489
0.053
0.008
Power Torq Pearl
A-

ERT Pearl

Pearl Reactive

Torq

Symmetric
2.489
0.054
Rogue Blade
A-

Hexion SE (Strength Enhanced)

Pearl Reactive

Sigma

Symmetric
2.470
0.047
Innovator
A-

MOtion Magic Plus

Pearl Reactive

Innovator

Asymmetric
2.477
0.053
0.012
Son!Q
A-

R2S Pearl

Pearl Reactive

Centripetal HD

Symmetric
2.470
0.047
Damn Good Verge Pearl
A-

Inciter Pearl

Pearl Reactive

Threshold M.D.

Symmetric
2.467
0.037