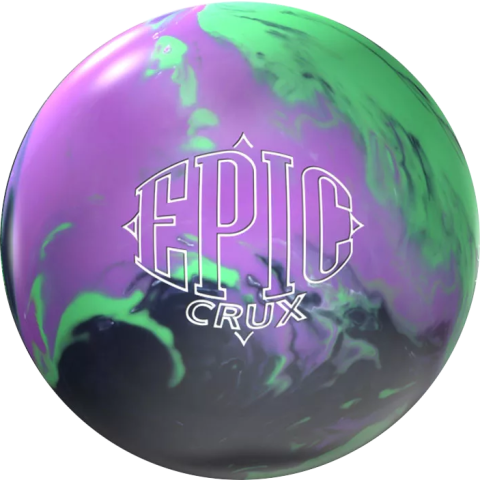 Create Custom Ball Comparison
Overseas/International Release
Translated from Japanese:
The Crux series, which has won the hearts of bowlers with reliable performances for many years, is back for the first time in about a year!
The Catalyst Core, which is also built this time, has state-of-the-art specifications as if ahead of its time, and the constant rolling feeling throughout the lane has earned a high reputation as a highly reliable ball because there is no sudden change that is influenced by oil.
The new Epic Crux GI-18 solid is used for the cover stock, and the axis movement is large, the rise is quick, but on the back end it is a soft pin action with continuous rolling.
Since it is a basic solid material, it is more effective to take a narrow line than to use too much lane width.
Factory Finish
2000 Abralon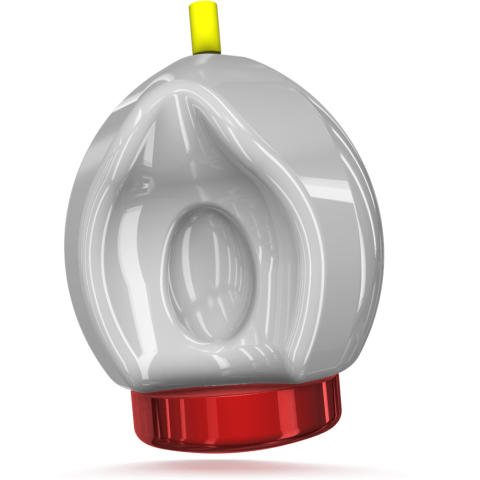 In the heart of the ball lies the innovative Catalyst Core. The genius the design is in the cavity which lets the driller remove less mass with most layouts. No more second guesses or shots in the dark. The ease of drilling is self-evident in this design.
Balls Similar to the Storm Epic Crux
Ball
Brand
Comparison Grade
Coverstock
Core
RG
Diff
MB Diff
US/Overseas Release
Discontinued
Epic Crux

GI-18 Solid

Solid Reactive

Catalyst

Asymmetric
2.500
0.052
0.017
Crux Prime
A

SPEC Solid

Solid Reactive

Catalyst

Asymmetric
2.500
0.052
0.017
Alpha Crux
A

GI-16 Solid

Solid Reactive

Catalyst

Asymmetric
2.500
0.052
0.017
Super Nova
A

NeX Solid

Solid Reactive

Ignition

Asymmetric
2.490
0.052
0.019
No Rules EXIST
A-

Reckless

Solid Reactive

Chaotic

Asymmetric
2.510
0.053
0.018
Reality Solid
A-

S84 Response Solid

Solid Reactive

Disturbance

Asymmetric
2.490
0.052
0.018
Reality
A-

S84 Response Solid

Solid Reactive

Disturbance

Asymmetric
2.490
0.052
0.018
Halo
A-

MicroTrax-S18

Solid Reactive

Centrum

Asymmetric
2.490
0.050
0.018
No Rules
A-

Micro DNA

Solid Reactive

Chaotic

Asymmetric
2.510
0.053
0.018
Crux Formula
A-

GI-17 Solid

Solid Reactive

Catalyst

Asymmetric
2.500
0.052
0.017
IDOL
A-

MicroTrax-S18

Solid Reactive

Ikon

Symmetric
2.490
0.052
IDOL Lime Green
A-

MicroTrax-S18

Solid Reactive

Ikon

Symmetric
2.490
0.052
Gravity Evolve
A-

SPEC Solid

Solid Reactive

Shape-Lock HD

Asymmetric
2.480
0.052
0.020
Zing!
A-

Forged 2 Solid

Solid Reactive

Zing!

Asymmetric
2.499
0.051
0.020
IDOL Ultra Black
A-

MicroTrax-S20

Solid Reactive

Ikon

Symmetric
2.490
0.052
Power Lock
A-

GI-18 Solid

Solid Reactive

RAD-X

Asymmetric
2.480
0.054
0.018
Proton PhysiX
A-

NeX Solid

Solid Reactive

Atomic

Asymmetric
2.480
0.053
0.017
Proton PhysiX 25th Anniversary
A-

NeX Solid

Solid Reactive

Atomic

Asymmetric
2.480
0.053
0.017
Top Gate
A-

GI-18 Solid

Solid Reactive

Ignition

Asymmetric
2.490
0.052
0.019
Katana Dragon
A-

Forged-X

Solid Reactive

Katana

Asymmetric
2.503
0.050
0.020
Redemption Solid
A-

Aggression NE Solid

Solid Reactive

Redemption

Asymmetric
2.498
0.053
0.015
Sure Lock
A-

GI-17 Solid

Solid Reactive

RAD-X

Asymmetric
2.480
0.054
0.018
Sure Lock S
A-

GI-17 Solid

Solid Reactive

RAD-X

Asymmetric
2.480
0.054
0.018
IDOL Helios
A-

XtremeTrax Solid

Solid Reactive

Ikon

Symmetric
2.490
0.052
Savage
A-

Exciter Solid

Solid Reactive

Savage

Asymmetric
2.490
0.051
0.016