Details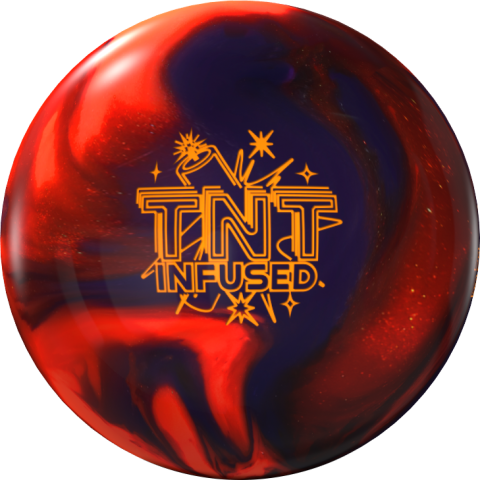 Create Custom Ball Comparison
Length and forgiveness. Now go ahead and say that again with us out loud, length and forgiveness. That was the philosophy we used in creating the latest installment of the TNT Series of balls – TNT Infused. Just like the original TNT before it, we use the term "benchmark" to describe our latest masterpiece of destruction. Armed with the same Torpex Core, we opted this go around to wrap that explosive core with our newly formulated pin-piercing shell – eTrax PLUS Hybrid. This version is the synergistic blend of 2-parts pearl / 1-part solid. So, if you are in the market for an explosive energy release through the pin deck, then you my friend have come to the right place.
Factory Finish
Reacta Gloss
Previously, we introduced both the pearl and solid versions of our eTrax based material. And well, after a couple years of success with both of those materials, we felt the world needed the blend of those together, better known as the eTrax PLUS Hybrid Coverstock. After months of rigorous testing and analysis, we were able to formulate the response to friction we were looking for thanks to this 2-part pearl / 1-part solid concoction. We felt this particular recipe of ratios and materials presented the control explosion we were looking for.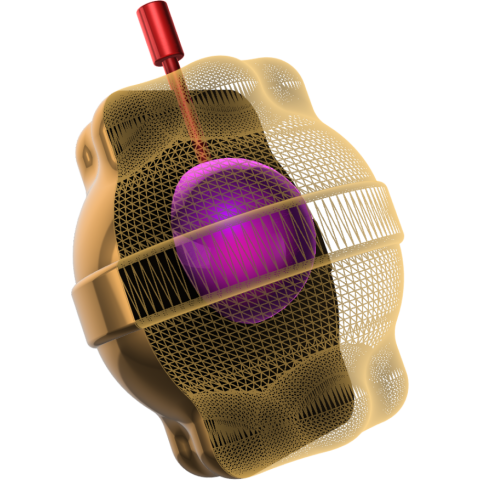 By placing the TORQUE SPHERE just above the inner equator of the TORPEX Core, we found that not only did it create the lowest RG symmetrical Roto Grip part ever, but it also created a higher differential which translates to more overall motion and less deflection through the pins.
Shop
Similar Balls
Balls Similar to the Roto Grip TNT Infused
Ball
Brand
Comparison Grade
Coverstock
Factory Finish
Core
RG
Diff
MB Diff
US/Overseas Release
Discontinued
TNT Infused

eTrax Plus Hybrid

Hybrid Reactive
Reacta Gloss

Torpex

Symmetric
2.470
0.052
Sublime
A

Reserve Blend 802

Hybrid Reactive
Reacta Gloss

Immersed

Symmetric
2.470
0.056
Bigfoot Hybrid
A-

HK22 - HyperKinetic Hybrid

Hybrid Reactive
500/1000/1500 Siaair, Crown Factory Compound

Bigfoot

Symmetric
2.468
0.053
PhysiX Paint the Lanes Pink
A-

NeX Hybrid

Hybrid Reactive
Reacta Gloss

Atomic

Asymmetric
2.480
0.053
0.017
Verge Hybrid
A-

HK22 - Inciter Max Flip

Hybrid Reactive
500/1000/1500 Siaair, Crown Factory Compound

Threshold

Symmetric
2.476
0.049
Hazmat
A-

HK22 - Semtex Hybrid

Hybrid Reactive
500/1000/1500 Siaair, Crown Factory Compound

Hazmat

Symmetric
2.479
0.055
Chaos
A-

Exciter Hybrid

Hybrid Reactive
500/2000 Abralon

Chaos

Symmetric
2.480
0.054
Forge Fire
A-

Infusion Hybrid

Hybrid Reactive
4000 LSS

Detonator

Symmetric
2.470
0.055
IDOL Synergy
A-

eTrax Hybrid

Hybrid Reactive
1500 Polished

Ikon

Symmetric
2.490
0.052
Mythic Jackal
A-

Infusion HV 2:1 Hybrid

Hybrid Reactive
5000 LSP

Predator V2

Asymmetric
2.470
0.054
0.015
Swerve GT
A-

Reflex Hybrid

Hybrid Reactive
500/2000 Abralon

Swerve

Asymmetric
2.470
0.052
0.007
Defender Hybrid
A-

HK22 - ACT 3.0 Hybrid

Hybrid Reactive
500/1000/1500 Siaair, Crown Factory Compound

Portal X

Asymmetric
2.473
0.054
0.015
Forge Ember
A-

Infusion MXC (MaXimum Continuation) Hybrid

Hybrid Reactive
2000 LSS

Detonator

Symmetric
2.470
0.055
Game Breaker 4 Hybrid
A-

HK22 - GB 12.0 Hybrid

Hybrid Reactive
500/1000/1500 Siaair, Crown Factory Compound

Enhanced V2

Symmetric
2.480
0.048
Collision
A-

Inciter Max Continuation

Hybrid Reactive
500/1000/1500 Siaair, Crown Factory Compound

Collision

Asymmetric
2.462
0.052
0.019
Revolt Vengeance
B+

Turmoil HFH (High Friction Hybrid)

Hybrid Reactive
5000 LSP

Vanquish

Symmetric
2.470
0.056
Phaze III
B+

R3S Hybrid

Hybrid Reactive
1500 Polished

Velocity

Symmetric
2.480
0.051
Modern Marvel
B+

R2X Hybrid

Hybrid Reactive
4000 Abralon

Centripetal

Symmetric
2.480
0.050
TNT
B+

eTrax Plus Solid

Solid Reactive
2000 Abralon

Torpex

Symmetric
2.470
0.052
Summit
B+

TX-23 Hybrid

Hybrid Reactive
3000 Abralon

Centripetal HD A.I.

Symmetric
2.460
0.056
Magic Gem
B+

MicroTrax Hybrid

Hybrid Reactive
2000 Abralon

Defiant LRG

Asymmetric
2.470
0.053
0.016
Futura
B+

GSV-1 Hybrid

Hybrid Reactive
500/2000 Abralon

Futura HD (High Density)

Symmetric
2.480
0.053
Compass
B+

S70 Hybrid

Hybrid Reactive
4000 Abralon

Longitude

Symmetric
2.470
0.050
Super Son!Q
B+

NRG Hybrid

Hybrid Reactive
3000 Abralon

Centripetal HD

Symmetric
2.470
0.047
Game Breaker 3
B+

GB 12.7 Hybrid

Hybrid Reactive
500/2000 Abralon

Enhanced V2

Symmetric
2.480
0.048