Details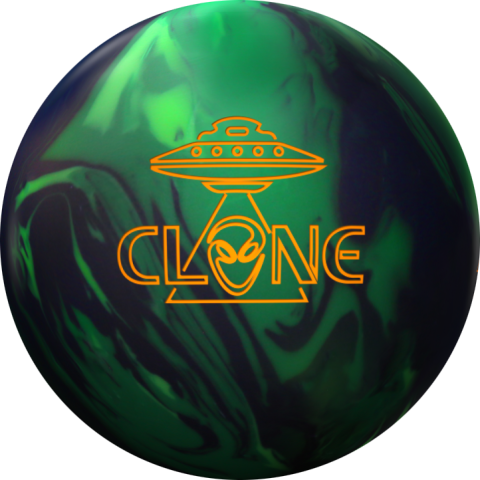 Create Custom Ball Comparison
CLONE - "a thing that duplicates, imitates, or closely resembles another in appearance, function, performance or style." And well, since the previous version was unwillingly abducted, we felt it was mere logic to "clone" it and give it a few upgrades & performance enhancing tweaks that we know you will like.
OPTIMIZED TRACTION TECHNOLOGY - Based on years of testing and research we found this direction of coverstock chemistry provides a more balanced oil displacement/absorption throughout the entire lane thus creating more consistency/predictability shot after shot in terms of skid distance, midlane traction, and response to friction down lane.
CLONED E.T. CORE - In our pursuit of creating an out of this world motion, we felt it was pertinent to change the density of the proven E.T. Core in order to better compliment our other asymmetrical cores in the line. Not only did the RG go down, but the differential went up, making this part dynamically stronger than the previous version.
Factory Finish
Reacta Gloss
Shop
Similar Balls
Balls Similar to the Roto Grip Clone
Ball
Brand
Comparison Grade
Coverstock
Core
RG
Diff
MB Diff
US/Overseas Release
Discontinued
Clone

OpiTrax

Solid Reactive

Cloned E.T.

Asymmetric
2.510
0.056
0.016
Envy
A-

Envy Solid

Solid Reactive

Launcher

Asymmetric
2.505
0.055
0.021
Atlas
A-

Formula 1 Solid

Solid Reactive

Atlas

Asymmetric
2.520
0.054
0.018
Command Solid
A-

ARS Solid

Solid Reactive

Movement

Asymmetric
2.513
0.053
0.021
UFO
A-

MicroTrax-S20

Solid Reactive

Equalizer Technology (E.T.)

Asymmetric
2.520
0.054
0.016
Warrant Solid
A-

N-Forcer SF Solid

Solid Reactive

Captive

Asymmetric
2.505
0.054
0.012
Conspiracy Scheme
A-

MOtion Magic Solid

Solid Reactive

Conspiracy

Asymmetric
2.487
0.056
0.021
Black Widow 2.0
A-

Aggression Solid

Solid Reactive

Gas Mask

Asymmetric
2.500
0.058
0.016
Envision
A-

GSV-X

Solid Reactive

Envision

Asymmetric
2.501
0.053
0.010
No Rules EXIST
A-

Reckless

Solid Reactive

Chaotic

Asymmetric
2.510
0.053
0.018
No Rules
A-

Micro DNA

Solid Reactive

Chaotic

Asymmetric
2.510
0.053
0.018
Archetype
A-

QR-11 Solid

Solid Reactive

I-Core 3.0 Slim

Asymmetric
2.518
0.053
0.020
Eternal Cell
A-

75M Solid

Solid Reactive

Nucleus

Asymmetric
2.520
0.056
0.018
Incredible Hero
A-

Dazzler 2

Solid Reactive

Incredible

Asymmetric
2.514
0.054
0.021
Incredible
A-

Dazzler 2

Solid Reactive

Incredible

Asymmetric
2.514
0.054
0.021
Hyper Cell
A-

80H MicroBite

Solid Reactive

Nucleus

Asymmetric
2.520
0.056
0.018
Trident Odyssey
B+

Coercion FYS Solid

Solid Reactive

Turbulent

Asymmetric
2.490
0.054
0.017
Paragon
B+

QR-11 Solid

Solid Reactive

I-Core 3.0

Asymmetric
2.486
0.056
0.015
The Fix
B+

The Fix Solid

Solid Reactive

Shapeshifter Sym/Asym

Asymmetric
2.511
0.054
Redemption Solid
B+

Aggression NE Solid

Solid Reactive

Redemption

Asymmetric
2.498
0.053
0.015
Menace
B+

74H

Solid Reactive

Cage

Asymmetric
2.520
0.054
0.015
Aero
B+

GSV-X

Solid Reactive

Aero

Asymmetric
2.504
0.050
0.015
Conspiracy
B+

Forged 2 Solid

Solid Reactive

Conspiracy

Asymmetric
2.487
0.056
0.021
Nightmare
B+

Class 8 Solid

Solid Reactive

Nightmare

Asymmetric
2.505
0.052
0.013
Hellcat XLR8
B+

Maximum Havoc

Solid Reactive

Hell Raiser D.O.T.

Asymmetric
2.537
0.053
0.016