Details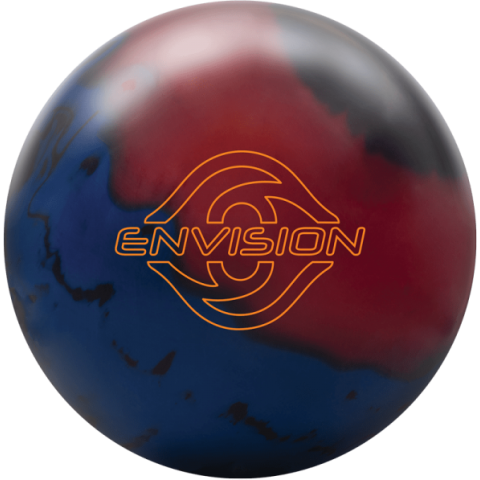 Create Custom Ball Comparison
Discontinued
You won't just have to envision throwing a lot of strikes and beating everyone because we're making it a reality with the new Ebonite Envision. We started with a new asymmetric core shape with versatile yet strong numbers and added GSV-X Solid from the Aero line to create incredible ball motion. The lower intermediate core and smoother 2000 Siaair finish make the Envision a ball that is usable on medium to oily conditions and longer into a set because of its versatility and continuation. Bowlers who love the Game Breaker balls will find similarities in the Envision but will use it when needing a stronger overall motion.
Factory Finish
500/2000 Siaair Micro Pad
Shop
* This page contains affiliate links, so I may earn a small commission when you make a purchase through the links below, at no additional cost to you.
Similar Balls
Balls Similar to the Ebonite Envision
Ball
Brand
Comparison Grade
Coverstock
Core
RG
Diff
MB Diff
US/Overseas Release
Discontinued
Envision

GSV-X

Solid Reactive

Envision

Asymmetric
2.501
0.053
0.010
Power Torq
A-

ERT Solid

Solid Reactive

Torq

Symmetric
2.489
0.054
Trail Blazer Solid
A-

MOtion Magic Solid

Solid Reactive

Trail Blazer

Asymmetric
2.484
0.052
0.020
Atlas
A-

Formula 1 Solid

Solid Reactive

Atlas

Asymmetric
2.520
0.054
0.018
Legion Solid
A-

Prime Response

Solid Reactive

LT-2

Asymmetric
2.500
0.046
0.011
Redemption Solid
A-

Aggression NE Solid

Solid Reactive

Redemption

Asymmetric
2.498
0.053
0.015
Defender
A-

ACT 3.0 Solid

Solid Reactive

Portal X

Asymmetric
2.473
0.054
0.015
Warrant Solid
A-

N-Forcer SF Solid

Solid Reactive

Captive

Asymmetric
2.505
0.054
0.012
Raptor Supreme
A-

Coercion MXC (MaXimum Continuation)

Solid Reactive

Affliction

Symmetric
2.500
0.052
Omni
A-

GSV 2.0

Solid Reactive

Omni

Asymmetric
2.501
0.050
0.013
Hip Star
A-

Dazzler 2

Solid Reactive

Renovator

Symmetric
2.504
0.052
Envy
A-

Envy Solid

Solid Reactive

Launcher

Asymmetric
2.505
0.055
0.021
Crux Prime
A-

SPEC Solid

Solid Reactive

Catalyst

Asymmetric
2.500
0.052
0.017
Extreme Envy
A-

Envy Solid CFI

Solid Reactive

Launcher LRG

Asymmetric
2.479
0.054
0.022
Aero
A-

GSV-X

Solid Reactive

Aero

Asymmetric
2.504
0.050
0.015
Incognito
A-

S. H. A. R. P.

Solid Reactive

Incognito

Asymmetric
2.487
0.053
0.017
Hellcat
A-

Havoc

Solid Reactive

Hell Raiser D.O.T.

Asymmetric
2.537
0.053
0.016
Alpha Crux
A-

GI-16 Solid

Solid Reactive

Catalyst

Asymmetric
2.500
0.052
0.017
Authority Solid
A-

ERT 2.0 Solid

Solid Reactive

Authority

Asymmetric
2.503
0.050
0.020
Command Solid
A-

ARS Solid

Solid Reactive

Movement

Asymmetric
2.513
0.053
0.021
Zing!
A-

Forged 2 Solid

Solid Reactive

Zing!

Asymmetric
2.499
0.051
0.020
Super Nova
A-

NeX Solid

Solid Reactive

Ignition

Asymmetric
2.490
0.052
0.019
No Rules EXIST
A-

Reckless

Solid Reactive

Chaotic

Asymmetric
2.510
0.053
0.018
Trident Odyssey
A-

Coercion FYS Solid

Solid Reactive

Turbulent

Asymmetric
2.490
0.054
0.017
No Rules
A-

Micro DNA

Solid Reactive

Chaotic

Asymmetric
2.510
0.053
0.018