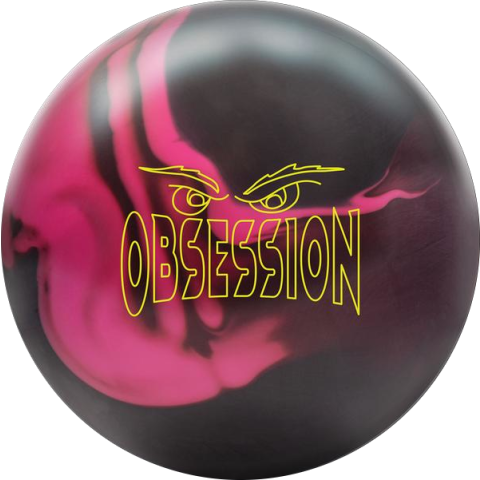 Create Custom Ball Comparison
The Obsession and Obsession Tour have the same core shape; however, the Tour edition differential is .016 points lower, creating less flare, less hook, and a more controllable reaction compared to the regular Obsession.
The Obsession has a new strong formula called Envy Solid CFI, where we've gone back to infusing the shell with carbon fiber. Featuring DOT technology, which allows you to drill anywhere which makes this ball even tougher.
Hammer recommends Tough Scrub to keep your Obsession performing its best!
Factory Finish
500, 1500 Siaair Micro Pad
Balls Similar to the Hammer Obsession
Ball
Brand
Comparison Grade
Coverstock
Core
RG
Diff
MB Diff
US/Overseas Release
Discontinued
Obsession

Envy Solid CFI

Solid Reactive

Obsession

Asymmetric
2.468
0.050
0.013
Strata
A-

QR-11 Solid

Solid Reactive

Strata

Asymmetric
2.475
0.050
0.017
Prism Solid
A-

ACT Solid

Solid Reactive

Portal

Asymmetric
2.465
0.051
0.018
Prism Warp
A-

ACT 2.0

Solid Reactive

Portal

Asymmetric
2.465
0.051
0.018
Nirvana
A-

ECS Solid

Solid Reactive

Nirvana Ultra Low RG

Asymmetric
2.477
0.054
0.013
Quantum Evo Solid
A-

Evolution Solid

Solid Reactive

QCS-12

Asymmetric
2.502
0.048
0.012
Maximum Results
A-

TS-1 (Textured Solid 1)

Solid Reactive

Maximum Results

Asymmetric
2.494
0.050
0.030
Jackal Legacy
A-

Coercion MXC (MaXimum Continuation)

Solid Reactive

Predator V2

Asymmetric
2.470
0.054
0.015
Intimidator
A-

Inciter Max

Solid Reactive

Assailant

Asymmetric
2.481
0.051
0.016
Game Breaker 4
A-

GB 12.0 Solid

Solid Reactive

Enhanced V2

Symmetric
2.480
0.048
Polaris
A-

GSV-3 Solid

Solid Reactive

Polaris

Asymmetric
2.475
0.048
0.018
Informer
A-

S. H. A. R. P. / TS-1

Solid Reactive

Informer

Asymmetric
2.477
0.051
0.019
Verge
A-

Inciter Solid

Solid Reactive

Threshold

Symmetric
2.476
0.049
Instigator
A-

Inciter Solid

Solid Reactive

Assailant

Asymmetric
2.481
0.051
0.016
The Sauce (2019)
A-

Aggression Solid CFI

Solid Reactive

Modified Contrusion

Symmetric
2.470
0.049
Pitbull Bite
A-

Composite Fang Solid

Solid Reactive

Pitbull

Asymmetric
2.486
0.055
0.020
Statement Solid
A-

Aggression Solid CFI

Solid Reactive

Statement

Asymmetric
2.470
0.054
0.015
Mastermind
A-

Honor Roll Solid

Solid Reactive

Mastermind

Asymmetric
2.488
0.052
0.015
Lit
A-

Reflex XS

Solid Reactive

Lit

Asymmetric
2.470
0.052
0.020
Gravity Evolve
A-

SPEC Solid

Solid Reactive

Shape-Lock HD

Asymmetric
2.480
0.052
0.020
Kingpin
A-

ECA Solid

Solid Reactive

Kingpin Ultra Low RG

Asymmetric
2.483
0.055
0.020
Alpha Jackal
A-

Coercion HV3 (High Volume 3rd Generation)

Solid Reactive

Predator V2

Asymmetric
2.470
0.054
0.015
Zenith
A-

A.X.H. Solid

Solid Reactive

Zenith

Asymmetric
2.485
0.052
0.019
Proton PhysiX
A-

NeX Solid

Solid Reactive

Atomic

Asymmetric
2.480
0.053
0.017
Brutal Collision
A-

HK22 - Inciter Xtreme

Solid Reactive

Collision

Asymmetric
2.462
0.052
0.019