Create Custom Ball Comparison
Discontinued
The Ebonite Mission is back and features the same great original Mission core, but this time wrapped in our GB 12.7 coverstock to give the longest, most angular motion in the history of the Mission series. 
Opening a ball box has never been this exciting before! This is a limited production run product and is
called Mission Unknown for a reason. 
The Mission Unknown will come in a box completely sealed so nobody will know what is inside until it is opened to reveal one of three versions: black, red, or the ultra-rare gold. 
Less than 1% of balls produced are the ultra rare GOLD

Lucky finders of a Gold Mission Unknown will receive a Black Mission Unknown and a limited edition Ebonite Mission jacket.
Finders should revisit for instructions on how to claim their prize pack.

Less than 10% of produced balls will be the rare RED

All consumers can register to win the limited edition Ebonite Mission jacket with no purchase necessary. 
Factory Finish
500/1000 Abralon, Powerhouse Factory Finish Polish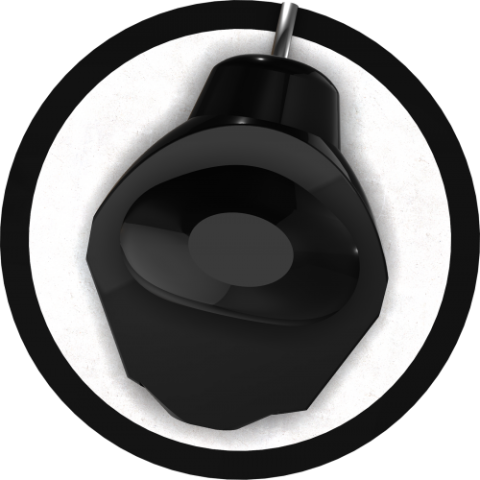 Balls Similar to the Ebonite Mission Unknown
Ball
Brand
Comparison Grade
Coverstock
Core
RG
Diff
MB Diff
US/Overseas Release
Discontinued
Mission Unknown

GB 12.7 Solid

Solid Reactive

Mission 1.0

Asymmetric
2.490
0.050
0.013
Halo
A-

MicroTrax-S18

Solid Reactive

Centrum

Asymmetric
2.490
0.050
0.018
Savage
A-

Exciter Solid

Solid Reactive

Savage

Asymmetric
2.490
0.051
0.016
Mastermind Intellect
A-

Honor Roll A+ Solid

Solid Reactive

Mastermind

Asymmetric
2.488
0.052
0.015
Mastermind
A-

Honor Roll Solid

Solid Reactive

Mastermind

Asymmetric
2.488
0.052
0.015
Mastermind Strategy
A-

Relativity Solid

Solid Reactive

Mastermind (modified)

Asymmetric
2.504
0.048
0.013
Omni
A-

GSV 2.0

Solid Reactive

Omni

Asymmetric
2.501
0.050
0.013
Super Nova
A-

NeX Solid

Solid Reactive

Ignition

Asymmetric
2.490
0.052
0.019
Alpha Crux
A-

GI-16 Solid

Solid Reactive

Catalyst

Asymmetric
2.500
0.052
0.017
Trident Abyss
A-

Coercion HV3 (High Volume 3rd Generation)

Solid Reactive

Turbulent

Asymmetric
2.490
0.054
0.017
Mako
A-

QR-10 Solid

Solid Reactive

Mako

Asymmetric
2.480
0.053
0.014
Impulse Solid
A-

Reflex Solid

Solid Reactive

Impulse

Symmetric
2.490
0.050
Zen Master
A-

S77 Response Solid

Solid Reactive

Meditate

Symmetric
2.490
0.051
Zing!
A-

Forged 2 Solid

Solid Reactive

Zing!

Asymmetric
2.499
0.051
0.020
Reax
A-

Reax Solid

Solid Reactive

Reax

Asymmetric
2.492
0.054
0.013
Aura Paranormal
A-

Optimum Hook

Solid Reactive

Aura

Asymmetric
2.481
0.052
0.015
Grudge
A-

Composite Hook Solid

Solid Reactive

Grudge

Asymmetric
2.490
0.056
0.014
Maximum Results
A-

TS-1 (Textured Solid 1)

Solid Reactive

Maximum Results

Asymmetric
2.494
0.050
0.030
Instigator
A-

Inciter Solid

Solid Reactive

Assailant

Asymmetric
2.481
0.051
0.016
Reality
A-

S84 Response Solid

Solid Reactive

Disturbance

Asymmetric
2.490
0.052
0.018
Knock Out
A-

Savvy Hook 3.0 Solid

Solid Reactive

Melee Low RG

Symmetric
2.487
0.050
Katana Dragon
A-

Forged-X

Solid Reactive

Katana

Asymmetric
2.503
0.050
0.020
Knock Out Black and Blue
A-

Savvy Hook 3.5 Solid

Solid Reactive

Melee Low RG

Symmetric
2.487
0.050
Code of Honor
A-

RCS 5.0

Solid Reactive

CB-2 Asymmetric

Asymmetric
2.480
0.049
0.017
Hx16
A-

DR-8 Hybrid

Hybrid Reactive

I-Core (Dual Density)

Asymmetric
2.490
0.053
0.016