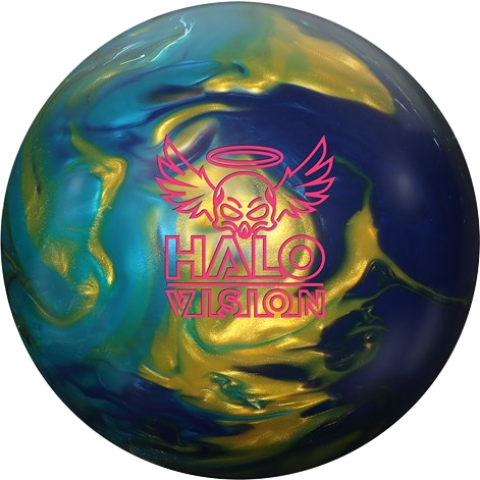 Create Custom Ball Comparison
Discontinued
The Roto Grip Halo Vision is versatile high performance bowling ball. This ball utilizes the same proven Centrum Core that has been used in the previous Halo balls but with a hybrid coverstock. This ball is wrapped in the eTrax-H19 Hybrid Reactive coverstock which was designed to give more surface roughness while maintaining its responsiveness to friction on medium/heavy to heavy oiled lanes. This ball is cleaner through the front of the lane but breaks a little early but can be easily adjusted depending on the bowlers needs.
Factory Finish
4000 Abralon
Produces more surface roughness without compromising high response to friction down lane.
It took more than a year to develop this unique-shaped core, which increases its rotation/continuation once the ball is in motion.
Balls Similar to the Roto Grip Halo Vision
Ball
Brand
Comparison Grade
Coverstock
Core
RG
Diff
MB Diff
US/Overseas Release
Discontinued
Halo Vision

eTrax-H19

Hybrid Reactive

Centrum

Asymmetric
2.490
0.050
0.018
Zen Soul
A-

S77 Response Hybrid

Hybrid Reactive

Meditate

Symmetric
2.490
0.051
Dream On
A-

74 Response Hybrid

Hybrid Reactive

Identity

Asymmetric
2.480
0.054
0.024
Defiant Soul
A-

77H

Hybrid Reactive

Paragon

Asymmetric
2.490
0.054
0.017
Impact
A-

GSV-1 Hybrid

Hybrid Reactive

CB-2 Asymmetric

Asymmetric
2.480
0.049
0.017
Omni Hybrid
A-

GSV 2.0 Hybrid

Hybrid Reactive

Omni

Asymmetric
2.501
0.050
0.013
Zing! Hybrid
A-

Forged 2 Hybrid

Hybrid Reactive

Zing!

Asymmetric
2.499
0.051
0.020
Aero Dynamix
A-

GSV-X Hybrid

Hybrid Reactive

Aero

Asymmetric
2.504
0.050
0.015
Trident
A-

Coercion HVH (High Volume Hybrid)

Hybrid Reactive

Turbulent

Asymmetric
2.490
0.054
0.017
Hx16
A-

DR-8 Hybrid

Hybrid Reactive

I-Core (Dual Density)

Asymmetric
2.490
0.053
0.016
Reality Check
A-

S84 Beta Hybrid

Hybrid Reactive

Disturbance

Asymmetric
2.490
0.052
0.018
Katana Slash
A-

Forged 2 Hybrid

Hybrid Reactive

Katana

Asymmetric
2.503
0.050
0.020
Strata Hybrid
A-

QR-11 Hybrid

Hybrid Reactive

Strata

Asymmetric
2.475
0.050
0.017
Zenith Hybrid
A-

A.X.H. Hybrid

Hybrid Reactive

Zenith

Asymmetric
2.485
0.052
0.019
Trail Blazer
A-

MOtion Magic

Hybrid Reactive

Trail Blazer

Asymmetric
2.484
0.052
0.020
Speed
A-

Formula 1

Hybrid Reactive

Shifter

Asymmetric
2.478
0.050
0.015
Absolute
A-

R2S Deep Hybrid

Hybrid Reactive

Sentinel

Asymmetric
2.480
0.050
0.021
Gauntlet
A-

Semtex Hybrid CFI

Hybrid Reactive

Gauntlet

Asymmetric
2.500
0.050
0.012
Mastermind Genius
A-

Honor Roll Hybrid

Hybrid Reactive

Mastermind

Asymmetric
2.488
0.052
0.015
Vapor Zone Hybrid
A-

Activator Plus 2.0 Hybrid

Hybrid Reactive

Zone

Asymmetric
2.478
0.048
0.017
Eon Infinite
A-

S71 Re-Loaded

Hybrid Reactive

Oloid

Symmetric
2.500
0.049
Intense Fire
A-

R3S Hybrid

Hybrid Reactive

RAD-E

Asymmetric
2.490
0.050
0.017
Mx16
A-

MR-8 Hybrid

Hybrid Reactive

I-Core (Dual Density)

Asymmetric
2.490
0.053
0.016
Prism Hybrid
A-

ACT Hybrid

Hybrid Reactive

Portal

Asymmetric
2.465
0.051
0.018
Alias
A-

Prime Hybrid

Hybrid Reactive

Alias

Asymmetric
2.490
0.054
0.013