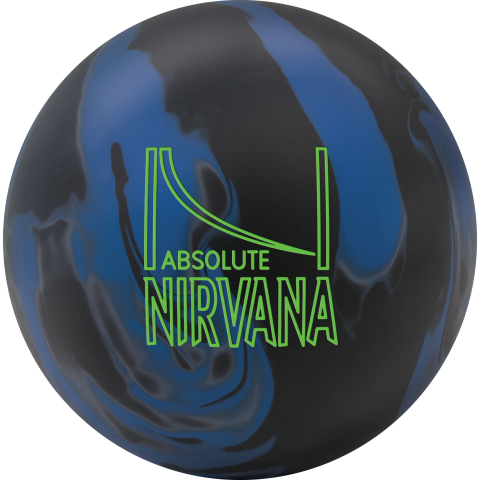 Create Custom Ball Comparison
Discontinued
The new ECS Hook coverstock is Brunswick's newest development in performance enhancing technology. ECS expands the soft segments of the polymer chain producing improved friction and wider sweet spot resulting in fewer adjustments. ECS technology generates a faster refresh rate and a longer performance life for the coverstock. Merged with the Nirvana Ultra Low RG core, the Absolute Nirvana delivers the most aggressive ball motion in the Brunswick line for heavy oil lane conditions.
Factory Finish
500, 1000 Siaair Micro Pad
The new Nirvana Ultra Low RG core features a single density rounded elliptical inner core. The core is dynamically designed to optimize ball motion with multiple drilling options for increased pin action and higher scores.
Balls Similar to the Brunswick Absolute Nirvana
Ball
Brand
Comparison Grade
Coverstock
Core
RG
Diff
MB Diff
US/Overseas Release
Discontinued
Absolute Nirvana

ECS Hook Solid

Solid Reactive

Nirvana Ultra Low RG

Asymmetric
2.477
0.054
0.013
Kingpin Max
A

ECA-X Solid

Solid Reactive

Kingpin Ultra Low RG

Asymmetric
2.483
0.055
0.020
Pitbull
A

Composite Bite

Solid Reactive

Pitbull

Asymmetric
2.486
0.055
0.020
Grudge
A

Composite Hook Solid

Solid Reactive

Grudge

Asymmetric
2.490
0.056
0.014
Nirvana
A-

ECS Solid

Solid Reactive

Nirvana Ultra Low RG

Asymmetric
2.477
0.054
0.013
Pitbull Bark
A-

Composite Fang Max

Solid Reactive

Pitbull

Asymmetric
2.486
0.055
0.020
Mako
A-

QR-10 Solid

Solid Reactive

Mako

Asymmetric
2.480
0.053
0.014
Strata
A-

QR-11 Solid

Solid Reactive

Strata

Asymmetric
2.475
0.050
0.017
Sure Lock
A-

GI-17 Solid

Solid Reactive

RAD-X

Asymmetric
2.480
0.054
0.018
Rip'D Solid
A-

Aggression Solid CFI

Solid Reactive

Rip'D

Asymmetric
2.480
0.054
0.014
Jackal LE
A-

Coercion HVS (High Volume Solid)

Solid Reactive

Predator V2

Asymmetric
2.470
0.054
0.015
Zenith
A-

A.X.H. Solid

Solid Reactive

Zenith

Asymmetric
2.485
0.052
0.019
Jackal Ghost
A-

Coercion HFS (High Friction Solid)

Solid Reactive

Predator V2

Asymmetric
2.470
0.054
0.015
Scandal
A-

Semtex Solid CFI

Solid Reactive

Scandal

Symmetric
2.480
0.054
Dream Big
A-

79 Alert Solid

Solid Reactive

Identity

Asymmetric
2.480
0.054
0.024
Verdict
A-

GSV-1 Solid

Solid Reactive

Justice

Symmetric
2.480
0.055
0.018
Maverick
A-

GB 14.0 Solid

Solid Reactive

Maverick

Asymmetric
2.480
0.056
0.016
Alpha Jackal
A-

Coercion HV3 (High Volume 3rd Generation)

Solid Reactive

Predator V2

Asymmetric
2.470
0.054
0.015
Tyrant
A-

Reflex Solid HST

Solid Reactive

Tyrant

Asymmetric
2.480
0.056
0.011
Statement Solid
A-

Aggression Solid CFI

Solid Reactive

Statement

Asymmetric
2.470
0.054
0.015
Kingpin
A-

ECA Solid

Solid Reactive

Kingpin Ultra Low RG

Asymmetric
2.483
0.055
0.020
Jackal Rising
A-

Coercion HV2 (High Volume 2nd Edition)

Solid Reactive

Predator V3

Asymmetric
2.470
0.055
0.019
Kingpin Rule
A-

ECA-XR Solid

Solid Reactive

Kingpin Ultra Low RG

Asymmetric
2.483
0.055
0.020
Jackal Legacy
A-

Coercion MXC (MaXimum Continuation)

Solid Reactive

Predator V2

Asymmetric
2.470
0.054
0.015
Pitbull Growl
A-

Composite Claw Solid

Solid Reactive

Pitbull

Asymmetric
2.486
0.055
0.020