Details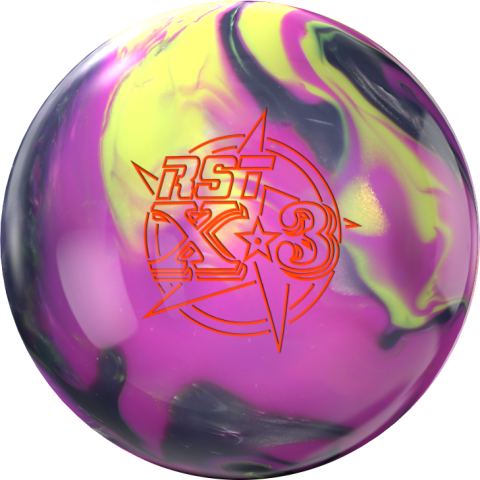 Create Custom Ball Comparison
Discontinued
Formulated for ALL bowlers regardless of their style or their skill level. The latest installment in the RST Series provides WAY more mid-lane motion than the RST X-2, while still providing PLENTY of giddy up down lane. This version of MicroTrax™ Hybrid features nano particles throughout to provide the traction you need in oil, while its two parts pearl provide you the reaction you have come to know and love about the RST Series. So, whether you are a recent PBA Hall of Famer, or this is your very first high-end ball, the RST X-3 will provide unparalleled reaction time and time again.
Our MicroTrax (Micro Nanoparticle Traction) Hybrid Coverstock creates a larger than average footprint in oil, while still providing above average responsiveness to friction down lane thanks to its overall chemical structure. This version of hybrid technology is far and away our most aggressive due to the nanoparticles helping to provide greater peaks and valleys in the overall surface profile.
Bottom line, this coverstock technology just flat out crushes in terms of performance. Featuring a 100% nanoparticle load, this hybrid concoction provides midlane traction and response to friction while maintaining its surface profile over a longer period of time to ensure you get maximum performance each and every time. And just like the hybrid version, the hybrid version displaces oil at the highest rate of any of our pearl covers. Basically, think of it as added forgiveness on those not-so-great shots off your hand.

Engineered for Medium/Heavy to Heavy Oil Conditions
Professional bowlers like to see continuous motion down lane with minimal deflection as the ball enters the pocket due to their rev rates usually being on the higher side. This logic was the basis of development by the R&D team as they looked to create a core that would maintain dynamics after drilling in order to maintain a higher level of core torque down lane. The larger mass at the base of the core does indeed create that. Especially since when drilled, the thumbhole will always end up near the bottom of the void area not to affect the bottom mass of the core all that much. Thus, making this core a "Tour Level" type core design.
Shop
* This page contains affiliate links, so I may earn a small commission when you make a purchase through the links below, at no additional cost to you.
Similar Balls
Balls Similar to the Roto Grip RST X-3
Ball
Brand
Comparison Grade
Coverstock
Core
RG
Diff
MB Diff
US/Overseas Release
Discontinued
RST X-3

MicroTrax Hybrid

Hybrid Reactive

Roto Star Tour (RST)

Asymmetric
2.530
0.053
0.016
RST X-1
A-

MicroTrax Hybrid

Hybrid Reactive

Roto Star Tour (RST)

Asymmetric
2.530
0.053
0.016
UFO Alert
A-

eTrax Hybrid

Hybrid Reactive

Equalizer Technology (E.T.)

Asymmetric
2.520
0.054
0.016
Baller
A-

ERT Hybrid

Hybrid Reactive

Big Time

Asymmetric
2.520
0.052
0.018
Parallax
A-

TractionX7 Hybrid

Hybrid Reactive

Aeroflo

Asymmetric
2.520
0.054
0.019
Infinity
A-

A.X.H. Hybrid

Hybrid Reactive

Infinity

Asymmetric
2.521
0.051
0.010
Hitman Enforcer
A-

N-Forcer Plus

Hybrid Reactive

Hitman

Asymmetric
2.524
0.050
0.020
Hyper Cell Fused
A-

eTrax-H18

Hybrid Reactive

Nucleus

Asymmetric
2.520
0.056
0.018
Reality Check
A-

S84 Beta Hybrid

Hybrid Reactive

Disturbance

Asymmetric
2.490
0.052
0.018
Trident Horizon
A-

Coercion MXC (MaXimum Continuation) Hybrid

Hybrid Reactive

Sidewinder

Asymmetric
2.520
0.049
0.013
Sinister
A-

76H

Hybrid Reactive

Cage

Asymmetric
2.520
0.054
0.015
Quantum Evo Hybrid
A-

Evolution Hybrid

Hybrid Reactive

QCS-18

Asymmetric
2.510
0.052
0.018
Stellar
B+

Activator Plus 2.0 Hybrid

Hybrid Reactive

I-Block

Symmetric
2.540
0.052
Redemption Hybrid
B+

Aggression NE Hybrid

Hybrid Reactive

Redemption

Asymmetric
2.498
0.053
0.015
Ruckus
B+

Class 8F Hybrid

Hybrid Reactive

Ruckus

Asymmetric
2.540
0.052
0.013
Aero Dynamix
B+

GSV-X Hybrid

Hybrid Reactive

Aero

Asymmetric
2.504
0.050
0.015
RST X-2
B+

eTrax Plus

Pearl Reactive

Roto Star Tour (RST)

Asymmetric
2.530
0.053
0.016
Proof Hybrid
B+

Prime Response Hybrid

Hybrid Reactive

Proof

Asymmetric
2.519
0.052
0.020
Hell Raiser
B+

Class 5

Hybrid Reactive

Hell Raiser

Asymmetric
2.537
0.054
0.016
Thug Corrupt
B+

Composite Hybrid

Hybrid Reactive

Thug

Asymmetric
2.505
0.052
0.015
Quick Fix
B+

Quick Fix Hybrid

Hybrid Reactive

Shapeshifter Sym/Asym

Asymmetric
2.511
0.054
Omni Hybrid
B+

GSV 2.0 Hybrid

Hybrid Reactive

Omni

Asymmetric
2.501
0.050
0.013
Warrant
B+

N-Forcer SF Hybrid

Hybrid Reactive

Captive

Asymmetric
2.505
0.054
0.012
Thug
B+

Class 13F

Hybrid Reactive

Thug

Asymmetric
2.505
0.052
0.015
Hell Raiser Blaze
B+

Inciter Max Traction

Solid Reactive

Hell Raiser D.O.T.

Asymmetric
2.537
0.053
0.016