Details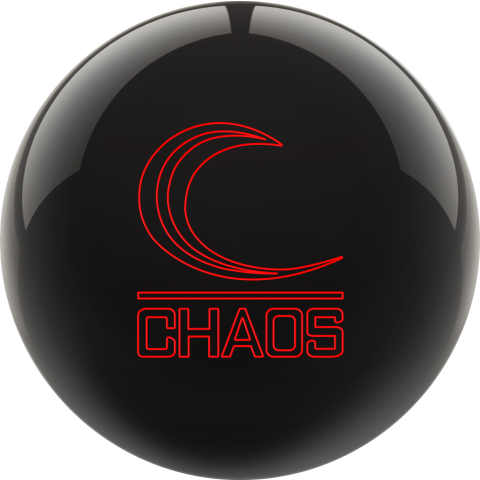 Create Custom Ball Comparison
Discontinued
We're Redefining Chaos!
At Columbia 300, we like to live on the wild side. Typically we like to wow our customers with flashy colors and performance that matches. When we create a ball like the Chaos Black that makes a head-turning change direction at the breakpoint, toning down the color scheme is a must to keep some sense of order.
Chaos Core
The Chaos core is a very low RG symmetric core with a very high differential. This allows the Chaos Black to rev up easier, enhancing the coverstock's ability to create friction with the lane.
Exciter Solid Coverstock
Exciter is the same coverstock we put on our High-Performance Savage line. The inherent nature of this coverstock is to be very aggressive in the midlane. The factory polished finish takes what is normally an aggressive midlane reaction and turns it into a very responsive motion at the breakpoint. 
HyperSHOCK Technology
HyperSHOCK Technology (patent pending) helps power the ball through the pins by controlling the influence they have on the ball's path through the deck. Columbia 300 balls with HyperSHOCK not only get you to the pocket but drive through like no other on the planet.
Factory Finish
500/1000 Abralon, Powerhouse Factory Finish Polish
Shop
Similar Balls
Balls Similar to the Columbia 300 Chaos Black
Ball
Brand
Comparison Grade
Coverstock
Core
RG
Diff
MB Diff
US/Overseas Release
Discontinued
Chaos Black

Exciter Solid

Solid Reactive

Chaos

Symmetric
2.480
0.054
Stealth
A-

QR-9 Solid

Solid Reactive

Stealth

Symmetric
2.482
0.056
Phaze II
A-

TX-16

Solid Reactive

Velocity

Symmetric
2.480
0.051
Freakshow Solid
A-

Class 8 Solid

Solid Reactive

Freakshow

Symmetric
2.481
0.054
0.001
LynX
A-

MSS1000

Solid Reactive

Overb-2

Symmetric
2.480
0.051
IDOL
A-

MicroTrax-S18

Solid Reactive

Ikon

Symmetric
2.490
0.052
Pandemonium Solid
A-

Forged + Solid

Solid Reactive

Pandemonium

Symmetric
2.487
0.053
IDOL Pro
A-

eTrax-S19

Solid Reactive

Ikon

Symmetric
2.490
0.052
Fanatic SS
A-

Relativity Hook Solid

Solid Reactive

Dual Flip Symmetric Low RG

Symmetric
2.480
0.055
Magnitude 055
A-

Relativity Traction Solid

Solid Reactive

Magnitude 055 High Diff

Symmetric
2.499
0.055
IDOL Helios
A-

XtremeTrax Solid

Solid Reactive

Ikon

Symmetric
2.490
0.052
Squatch Solid
A-

Ai-39 Solid

Solid Reactive

Yeti

Symmetric
2.482
0.054
Axiom
A-

NeX Solid

Solid Reactive

Orbital

Symmetric
2.480
0.050
Big Bro Flexin
A-

Reverie 3 (RVR 3) Solid

Solid Reactive

Dominance

Asymmetric
2.484
0.054
0.021
Method Solid
A-

Synthesis Solid

Solid Reactive

Magnitude 055 High Diff

Symmetric
2.499
0.055
Scandal
A-

Semtex Solid CFI

Solid Reactive

Scandal

Symmetric
2.480
0.054
Extreme Envy
A-

Envy Solid CFI

Solid Reactive

Launcher LRG

Asymmetric
2.479
0.054
0.022
Rhodman
A-

Juiced Maxx

Solid Reactive

Spheroid

Symmetric
2.480
0.048
Power Torq
A-

ERT Solid

Solid Reactive

Torq

Symmetric
2.489
0.054
Covert Revolt
A-

Turmoil HFS (High Friction Solid)

Solid Reactive

Vanquish

Symmetric
2.470
0.056
Tactix
A-

QR-9 Solid

Solid Reactive

Starship

Asymmetric
2.490
0.051
0.010
TNT
A-

eTrax Plus Solid

Solid Reactive

Torpex

Symmetric
2.470
0.052
Mission Unknown
A-

GB 12.7 Solid

Solid Reactive

Mission 1.0

Asymmetric
2.490
0.050
0.013
Big Bro Jacked
A-

Reverie 4 (RVR 4) ANT-iVi Solid

Solid Reactive

Dominance

Asymmetric
2.484
0.054
0.021
Revolt Havoc
A-

Helix HFS (High Friction Solid)

Solid Reactive

Vanquish

Symmetric
2.470
0.056