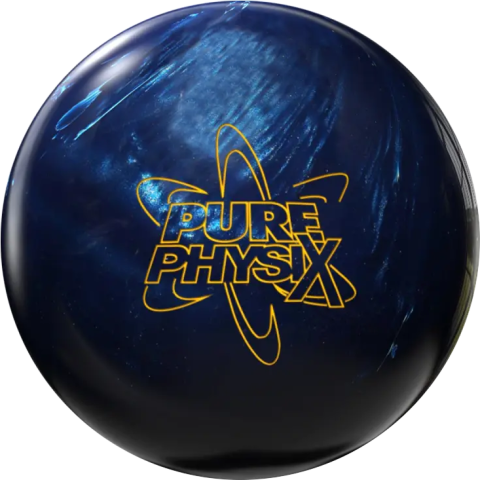 Create Custom Ball Comparison
Overseas/International Release
Translated from Japanese: 
This time, I adopt the cover stock "REX™" material used for the popular work dark code.
Pure Physix is born from the world-famous Physix.
The "REX™" material goes well with the atomic ™ core, and the running in front of the lane has moderate frictional force, but it is a product that emphasizes the size of the backend in the series.
There is a sharp sharpness in front of the pin and the pin action is outstanding. it has a pocket width like no other.
It is difficult to be influenced by the shades of oil, and it is finished in a product with a high overall ability.
Factory Finish
1500 Polished
Traditionally, the term "hybrid" suggests that both solid and pearl components coexist within a coverstock. We saw a better way for hybrids and took it. When we joined R2S™ with NeX™ in the lab, the results exceeded our expectations. In our testing, we discovered that the Dark Code read the midlane slightly sooner than the Code Black™ thanks to its NeX foundation but produced similar backend and entry angle numbers because the chemical porosity of R2S is slightly more compact than NeX. We left nothing to chance with this one. Thus, ReX a.k.a. "Reactor Extreme" was born.
Crankers will discover this type of pearl formulation to be more versatile in average conditions. Tweeners will crave this type of reaction to play to their strengths even on fresh conditions. Strokers gain easy access to power and backend the likes of which are not easily obtained in today's high-volume environment.
The Infinite PhysiX pushes the limits of performance, tech, and design. ReX adjusts the response time to friction that's not as quick as R2S™ and not quite as slow as NeX™. What's realized is a cover that fits a far-reaching diversity of forms, approaches, and styles. The bowler's feel becomes heightened as they're more connected to a ball that responds to their release with absolute fidelity. This helps optimize traction and control in a variety of playing conditions.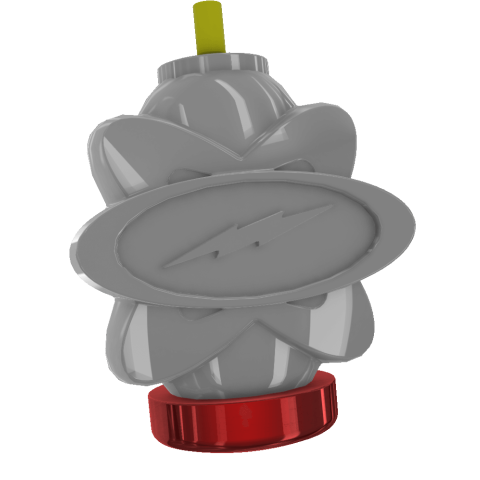 Firmly ensconced at the top of the Storm performance heap is the all-new Atomic Core. Yes, it officially boasts a 0.053 total differential in a 15 pound ball, and the rest of its prodigious oomph accepts credit from the strategically placed inlets surrounding the oval bolt and greater mass displacement along the z-axis creating an enhanced intermediate differential.
Balls Similar to the Storm Pure Physix
Ball
Brand
Comparison Grade
Coverstock
Core
RG
Diff
MB Diff
US/Overseas Release
Discontinued
Pure Physix

ReX

Pearl Reactive

Atomic

Asymmetric
2.480
0.053
0.017
PhysiX Power Elite
A

NeX Pearl

Pearl Reactive

Atomic

Asymmetric
2.480
0.053
0.017
Crystal PhysiX
A

NRG 2 Pearl

Pearl Reactive

Atomic

Asymmetric
2.480
0.053
0.017
Altered Reality
A

S84 Response Pearl

Pearl Reactive

Disturbance

Asymmetric
2.490
0.052
0.018
Reality Dark Knight
A

S84 Response Pearl

Pearl Reactive

Disturbance

Asymmetric
2.490
0.052
0.018
Infinite Physix
A

ReX

Pearl Reactive

Atomic

Asymmetric
2.480
0.053
0.017
Rubicon EX
A-

eTrax Pearl

Pearl Reactive

Rondure

Asymmetric
2.490
0.052
0.011
Rubicon UC2
A-

eTrax Pearl

Pearl Reactive

Rondure

Asymmetric
2.490
0.052
0.011
Dual Lock
A-

R4S Pearl

Pearl Reactive

RAD-X

Asymmetric
2.480
0.054
0.018
Axiom Pearl
A-

NeX Pearl

Pearl Reactive

Orbital

Symmetric
2.480
0.050
Volatility Torque
A-

S84 Response Pearl

Pearl Reactive

Volatility Asymmetric

Asymmetric
2.490
0.050
0.014
Incognito Pearl
A-

S. H. A. R. P. Pearl

Pearl Reactive

Incognito

Asymmetric
2.487
0.053
0.017
AstroPhysiX
A-

R2S Pearl

Pearl Reactive

Atomic

Asymmetric
2.480
0.053
0.017
Innovator
A-

MOtion Magic Plus

Pearl Reactive

Innovator

Asymmetric
2.477
0.053
0.012
In2ition
A-

Prime DT Pearl

Pearl Reactive

X-Type

Asymmetric
2.480
0.054
0.015
Zenith Pearl
A-

A.X.H. Pearl

Pearl Reactive

Zenith

Asymmetric
2.485
0.052
0.019
Intimidator Pearl
A-

Inciter Max Pearl

Pearl Reactive

Assailant

Asymmetric
2.481
0.051
0.016
Big Bro K.O.
A-

Reverie 4

Pearl Reactive

Dominance

Asymmetric
2.484
0.054
0.021
Halo Pearl
A-

eTrax-P18

Pearl Reactive

Centrum

Asymmetric
2.490
0.050
0.018
Zen Spirit
A-

S77 Response Pearl

Pearl Reactive

Meditate

Symmetric
2.490
0.051
Zen
A-

S77 Response Pearl

Pearl Reactive

Meditate

Symmetric
2.490
0.051
Locked In
A-

R3S Pearl

Pearl Reactive

RAD-X

Asymmetric
2.480
0.054
0.018
Time Lock
A-

R3X Pearl

Pearl Reactive

RAD-X

Asymmetric
2.480
0.054
0.018
Shift Lock
A-

R3X Pearl

Pearl Reactive

RAD-X

Asymmetric
2.480
0.054
0.018
Shift Lock LTD
A-

R3X Pearl

Pearl Reactive

RAD-X

Asymmetric
2.480
0.054
0.018