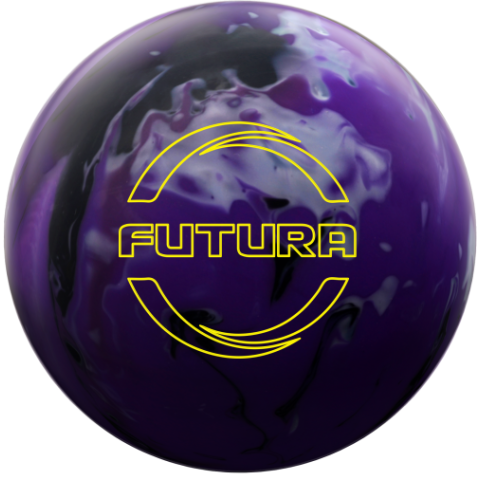 Create Custom Ball Comparison
Discontinued
Futura features our latest development in coverstock design, giving you the most performance possible in this category.
Imbedded inside our GSV-1 coverstock is a new core design based on the proven ancestry of our famed Game Breaker line. The combination of the two will keep you ahead of your competition for the foreseeable future.
Factory Finish
500/2000 Abralon
The GSV - 1 coverstock is the next generation of the most trusted and proven covers in bowling, our GB series. It is our newest coverstock formulation that has opened many new doors and given Ebonite the possibility to take ball motion to the next level.
The premise of the new Futura HD core design started with one of the brand's most iconic core shapes in the V2, found in our infamous Game Breaker series. By shifting mass away from the center of the core along the X-axis and going with a higher density core material, we were able to maintain the low RG motion offered in the Game Breaker line. At the same time, this increased the backend continuation with improved overall flare potential.
Balls Similar to the Ebonite Futura
Ball
Brand
Comparison Grade
Coverstock
Core
RG
Diff
MB Diff
US/Overseas Release
Discontinued
Futura

GSV-1 Hybrid

Hybrid Reactive

Futura HD (High Density)

Symmetric
2.480
0.053
Scandal/S
A

Semtex Hybrid CFI

Hybrid Reactive

Scandal

Symmetric
2.480
0.054
Chaos
A

Exciter Hybrid

Hybrid Reactive

Chaos

Symmetric
2.480
0.054
Swerve GT
A-

Reflex Hybrid

Hybrid Reactive

Swerve

Asymmetric
2.470
0.052
0.007
Web
A-

Aggression Hybrid

Hybrid Reactive

Spheroid

Symmetric
2.480
0.048
Alias
A-

Prime Hybrid

Hybrid Reactive

Alias

Asymmetric
2.490
0.054
0.013
Game Breaker 3
A-

GB 12.7 Hybrid

Hybrid Reactive

Enhanced V2

Symmetric
2.480
0.048
Fierce Phobia
A-

Semtex Hybrid

Hybrid Reactive

Phobia

Symmetric
2.490
0.054
Paradox Black
A-

QR-9 Hybrid

Hybrid Reactive

I-Core 2.0

Asymmetric
2.480
0.057
0.015
Paradox
A-

QR-9 Hybrid

Hybrid Reactive

I-Core 2.0

Asymmetric
2.480
0.057
0.015
Choice
A-

GSV-1 Hybrid

Hybrid Reactive

MOD-1

Symmetric
2.490
0.054
Mako Attack
A-

QR-10 Hybrid

Hybrid Reactive

Mako

Asymmetric
2.480
0.053
0.014
Rip'D
A-

Aggression Hybrid CFI

Hybrid Reactive

Rip'D

Asymmetric
2.480
0.054
0.014
Warrior Elite
A-

GB 13.3 Hybrid

Hybrid Reactive

Iron Fist

Asymmetric
2.470
0.057
0.020
Dream On
A-

74 Response Hybrid

Hybrid Reactive

Identity

Asymmetric
2.480
0.054
0.024
Forge Fire
A-

Infusion Hybrid

Hybrid Reactive

Detonator

Symmetric
2.470
0.055
Ultimate Nirvana
A-

ECS Hybrid

Hybrid Reactive

Nirvana Ultra Low RG

Asymmetric
2.477
0.054
0.013
Gauntlet
A-

Semtex Hybrid CFI

Hybrid Reactive

Gauntlet

Asymmetric
2.500
0.050
0.012
Scandal
A-

Semtex Solid CFI

Solid Reactive

Scandal

Symmetric
2.480
0.054
Bad Intentions Hybrid
A-

Juiced Extreme Hybrid

Hybrid Reactive

Spheroid

Symmetric
2.480
0.048
Impact
A-

GSV-1 Hybrid

Hybrid Reactive

CB-2 Asymmetric

Asymmetric
2.480
0.049
0.017
Lock
A-

GI-15 Hybrid

Hybrid Reactive

RAD-X

Asymmetric
2.480
0.054
0.018
Zen Soul
A-

S77 Response Hybrid

Hybrid Reactive

Meditate

Symmetric
2.490
0.051
Mako
A-

QR-10 Solid

Solid Reactive

Mako

Asymmetric
2.480
0.053
0.014
Aura Mystic
A-

Optimum Versatility

Hybrid Reactive

Aura

Asymmetric
2.481
0.052
0.015