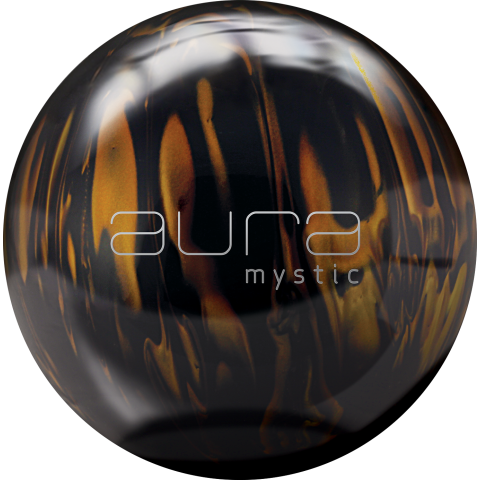 Create Custom Ball Comparison
Discontinued
The Aura Mystic features the new Optimum Versatility Reactive Coverstock that provides more length and more backend reaction to achieve ultimate versatility. Finished with Rough Buff polish, the Aura Mystic slips through the front with ease, revving fast in the mid-lane and generating an extremely high angular velocity on medium to heavy oil lane conditions.
Factory Finish
500 Siaair, Rough Buff
The Aura Ultra Low RG core features a single density rounded-off elliptical inner core. The core is dynamically designed to extend the rotational energy, boosting angular velocity to transfer energy to the pins for increased pin action and higher scores.
Balls Similar to the Brunswick Aura Mystic
Ball
Brand
Comparison Grade
Coverstock
Core
RG
Diff
MB Diff
US/Overseas Release
Discontinued
Aura Mystic

Optimum Versatility

Hybrid Reactive

Aura

Asymmetric
2.481
0.052
0.015
Brutal Nightmare
A-

Class 8 Hybrid

Hybrid Reactive

Nightmare

Asymmetric
2.505
0.052
0.013
Mastermind Genius
A-

Honor Roll Hybrid

Hybrid Reactive

Mastermind

Asymmetric
2.488
0.052
0.015
PhysiX
A-

NRG Hybrid

Hybrid Reactive

Atomic

Asymmetric
2.480
0.053
0.017
Hx16
A-

DR-8 Hybrid

Hybrid Reactive

I-Core (Dual Density)

Asymmetric
2.490
0.053
0.016
Mx16
A-

MR-8 Hybrid

Hybrid Reactive

I-Core (Dual Density)

Asymmetric
2.490
0.053
0.016
Mako Attack
A-

QR-10 Hybrid

Hybrid Reactive

Mako

Asymmetric
2.480
0.053
0.014
Deadly Aim
A-

Primer Hybrid

Hybrid Reactive

Dead Center

Asymmetric
2.490
0.054
0.008
Ultimate Nirvana
A-

ECS Hybrid

Hybrid Reactive

Nirvana Ultra Low RG

Asymmetric
2.477
0.054
0.013
Swerve GT
A-

Reflex Hybrid

Hybrid Reactive

Swerve

Asymmetric
2.470
0.052
0.007
Lock
A-

GI-15 Hybrid

Hybrid Reactive

RAD-X

Asymmetric
2.480
0.054
0.018
Virtual Energy
A-

R2X Hybrid

Hybrid Reactive

Shape-Lock HD

Asymmetric
2.480
0.052
0.020
Reax Gusto
A-

Reax Gusto

Hybrid Reactive

Reax

Asymmetric
2.492
0.054
0.013
Trident
A-

Coercion HVH (High Volume Hybrid)

Hybrid Reactive

Turbulent

Asymmetric
2.490
0.054
0.017
Defiant Soul
A-

77H

Hybrid Reactive

Paragon

Asymmetric
2.490
0.054
0.017
First Blood
A-

NBT Hybrid

Hybrid Reactive

First Blood

Asymmetric
2.480
0.056
0.009
!Q 300
A-

PFT Hybrid

Hybrid Reactive

Centripetal

Symmetric
2.480
0.050
Rip'D
A-

Aggression Hybrid CFI

Hybrid Reactive

Rip'D

Asymmetric
2.480
0.054
0.014
Futura
A-

GSV-1 Hybrid

Hybrid Reactive

Futura HD (High Density)

Symmetric
2.480
0.053
Crux
A-

ERG Hybrid

Hybrid Reactive

Catalyst

Asymmetric
2.500
0.052
0.017
Paradox Black
A-

QR-9 Hybrid

Hybrid Reactive

I-Core 2.0

Asymmetric
2.480
0.057
0.015
Dream On
A-

74 Response Hybrid

Hybrid Reactive

Identity

Asymmetric
2.480
0.054
0.024
Impact
A-

GSV-1 Hybrid

Hybrid Reactive

CB-2 Asymmetric

Asymmetric
2.480
0.049
0.017
Absolute
A-

R2S Deep Hybrid

Hybrid Reactive

Sentinel

Asymmetric
2.480
0.050
0.021
Endless Nightmare
A-

Class 9 Hybrid

Hybrid Reactive

Nightmare

Asymmetric
2.505
0.052
0.013