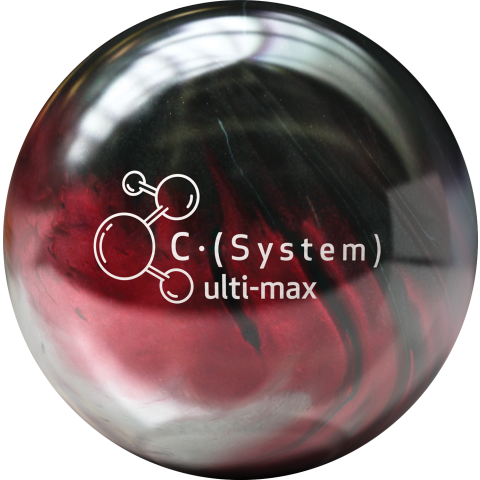 Create Custom Ball Comparison
Discontinued
With its Rough Buff Finish, the C•(System) ulti-max skids effortlessly through the front, saving axis rotation in the mid-lane to grab the backend for strong continuous response to friction that cuts easily through the pins on medium to medium-oily lane conditions.
Factory Finish
500/1500 Siaair, Rough Buff
CFT ulti max pearl is our newest breakthrough in Chemical Friction Technology. The CFT ulti-max pearl coverstock uses the highest concentration of the friction additive in order to maximize the chemical system. The key to CFT is creating more traction with chemical friction instead of mechanical friction. By using less mechanical friction to produce hook, the CFT ultimax pearl coverstock provides enhanced projection down the lane while saving axis rotation for more energy on the backend and through the pins.
The new Dual Flip I - Block core incorporates a top and bottom flip block over a centered mass. The centered mass creates stability while the dual flip blocks keep the core revving to the backend all the way through the pins for improved pin action.
Balls Similar to the Brunswick C•(System) ulti-max
Ball
Brand
Comparison Grade
Coverstock
Core
RG
Diff
MB Diff
US/Overseas Release
Discontinued
C•(System) ulti-max

CFT ulti-max

Pearl Reactive

Dual Flip I-Block

Asymmetric
2.535
0.050
0.017
C•(System) 3.5
A-

CFT 3.5

Pearl Reactive

Dual Flip I-Block

Asymmetric
2.535
0.050
0.017
Wicked Siege
A-

Propel X Pearl

Pearl Reactive

MACE Medium RG

Asymmetric
2.544
0.050
0.020
C•(System) 2.5
A-

CFT 2.5

Pearl Reactive

Dual Flip I-Block

Asymmetric
2.535
0.050
0.017
Lucid
A-

ERG Pearl

Pearl Reactive

M.A.D.

Asymmetric
2.520
0.050
0.017
Ludicrous
A-

Ai-40

Pearl Reactive

Ludicrous

Asymmetric
2.535
0.050
0.012
Mutant Cell Pearl
A-

Cytoplasmic XL Pearl

Pearl Reactive

Nucleus II

Asymmetric
2.540
0.047
0.021
Evil Siege
A-

Propel Pearl

Pearl Reactive

MACE Medium RG

Asymmetric
2.544
0.050
0.020
Primal TV4
A-

Vicious

Pearl Reactive

Thrust

Symmetric
2.540
0.052
Hell Raiser
A-

Class 5

Hybrid Reactive

Hell Raiser

Asymmetric
2.537
0.054
0.016
Epidemic
A-

Level 5

Pearl Reactive

Biohazard

Asymmetric
2.530
0.050
0.013
Nexus ƒ(P) Pearl
A-

Addaptive ƒ(P) Pearl

Pearl Reactive

Nexus Arrowhead

Asymmetric
2.502
0.056
0.012
Ruckus Schizo
B+

Class 12F

Pearl Reactive

Ruckus

Asymmetric
2.540
0.052
0.013
Loaded Revolver
B+

Propel X Pearl

Pearl Reactive

Jack

Symmetric
2.520
0.054
Nasty Rumor
B+

Deception Pearl Plus

Pearl Reactive

Rumor

Symmetric
2.534
0.048
0.001
Hell Raiser Return
B+

Inciter Max Flip

Pearl Reactive

Hell Raiser D.O.T.

Asymmetric
2.537
0.053
0.016
Rumor
B+

Deception Pearl

Pearl Reactive

Rumor

Symmetric
2.534
0.048
0.001
Primal Fear
B+

Voracity

Pearl Reactive

Impulse V2

Symmetric
2.550
0.050
Hitman
B+

N-Forcer

Pearl Reactive

Hitman

Asymmetric
2.524
0.050
0.020
Primal Rage
B+

Fusion Pearl

Pearl Reactive

Impulse V2

Symmetric
2.550
0.050
Fortera Exile
B+

Fortify Pearl

Pearl Reactive

Fortera Flip

Asymmetric
2.512
0.050
0.016
Cruel Intent
B+

Fusion Pearl

Pearl Reactive

Sinister

Asymmetric
2.550
0.053
0.018
Wolverine
B+

S70 Pearl

Pearl Reactive

Lacerate 2.0

Symmetric
2.540
0.053
Wolverine Dark Moss
B+

S70 Pearl

Pearl Reactive

Lacerate 2.0

Symmetric
2.540
0.053
Byte
B+

ERG Pearl

Pearl Reactive

G2+

Asymmetric
2.520
0.043
0.017